Do you wonder how Bollywood celebrity kitchens look like? How do you imagine them to be?
Do you think of dramatic Bollywood kitchen decor and giant glass windows? Or, chic sleek cabinets and the most expensive kitchen appliances?
Have you ever wondered what food do they cook? Or, whether they cook at all? Well, today in this article we will take you on a celebrity kitchen tour to explore some of the best-designed Bollywood celebrity kitchens.
While some of them are worth a million-dollars, few of them also feature really simple yet classy Indian modular style kitchens that you can recreate without burning your pockets.
We have 21 Bollywood celebrity kitchen ideas starting from Priyanka Chopra, Alia Bhat, Dia Mirza, Malaika Arora, John Abraham, Madhuri Dixit, Kartik Aryan and so on.
We bring you the sinful opportunity to sneak peek inside celeb kitchens and take inspiration from them to create your own space for delightful cooking.
Take a look at everything that celebs do in their kitchen.
Priyanka Chopra
It was back in 2016 when we got the chance to take a sneak peek inside the desi girl's kitchen in her luxurious Manhattan Duplex. She owns a kitchen that we call chic, sleek, and swanky.
Black cabinets, beige marble countertop, and frosted glass upper cabinets- perfect modern kitchen elements. What stood out in her kitchen is the aesthetic wall decor with cute cartoon illustrations of the Chopras and a black and white New York city portrait.
Alia Bhat
What comes to our mind when we think of Alia Bhat? Cool, spunky, zesty? Yes. And her kitchen also has the same persona. Instead of following the modern kitchen interior trend that is all whites and nudes, Alia Bhat opted for minty fresh kitchen cabinets followed by some open shelf upper cabinets, large windows to stream lots of sunlight, and red cooking pots for a pop of color. Oh, and the beautiful black and white patterned floor tiles which took most of the attention.
Sonam Kapoor Ahuja
Inside Sonam Kapoor Ahuja's Delhi mansion, she has this huge kitchen space with lots of air, sunlight, and warmth. The kitchen boasts a modern and luxurious design featuring chestnut-beige lower cabinets, a granite kitchen island, and frosted glass upper cabinets. The room has huge glass doors and windows to let pass maximum sunlight and make the space appear even brighter and larger.
Dia Mirza
Step into Dia Mirza's house and kitchen that follows the mantra 'sustainable and eco-friendly'. Her kitchen features a very sober, earthy, and minimalistic decor. She has refurbished wooden cabinets, open shelves, tiled backsplash, and glass windows to let the greenery in. She makes use of glass bottles, ceramic pots, and jute bags to enhance the earthy, boho feel.
Sussane Khan
Sussane Khan, an interior designer by profession is the owner of one of the best-designed Bollywood celebrity kitchens. Her kitchen yells luxury and extravagance. It includes all-white cabinets reaching up to ceilings, a glossy white quartz island, and metallic bar chairs. She puts green leafy plants in the middle to add a pop of greenery to the otherwise muted palette of the space. She also has installed a glass door to make the kitchen look like an extended part of the living room.
Katrina Kaif
It's during the quarantine when Katrina Kaif uploaded her video doing the dishes in her kitchen. Contrary to the extravagantly expensive kitchens, Katrina chooses something that is simple, minimalistic, and modern. We can see all-white cupboards, a white tile backsplash, and a black countertop. Her kitchen also has large windows to let the outdoors in and make the space feel larger.
Parineeti Chopra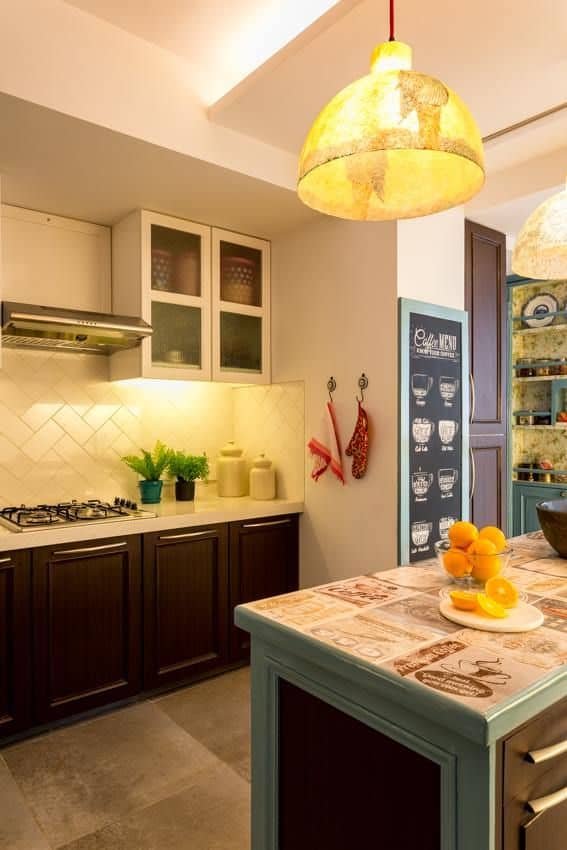 There's nothing that we don't like about this kitchen-it's simple, it's fun and cozy. The Pastel blue shelves, wooden cupboards, a printed kitchen island, and some plants are all you need to liven up any kitchen space. We love how she puts a beautiful wallpaper for an accent wall. And a chalkboard in paint on one wall– simply amazing! You can easily recreate her kitchen decor.
John Abraham
We are awestruck by just looking at John Abraham's kitchen in his penthouse in Mumbai. Take a look yourself. Matte black cabinets, white marble countertop, and pendant lights- the best example of how you can incorporate black in your kitchen. And finally! Some greenery to spruce up the kitchen space further.
Madhuri Dixit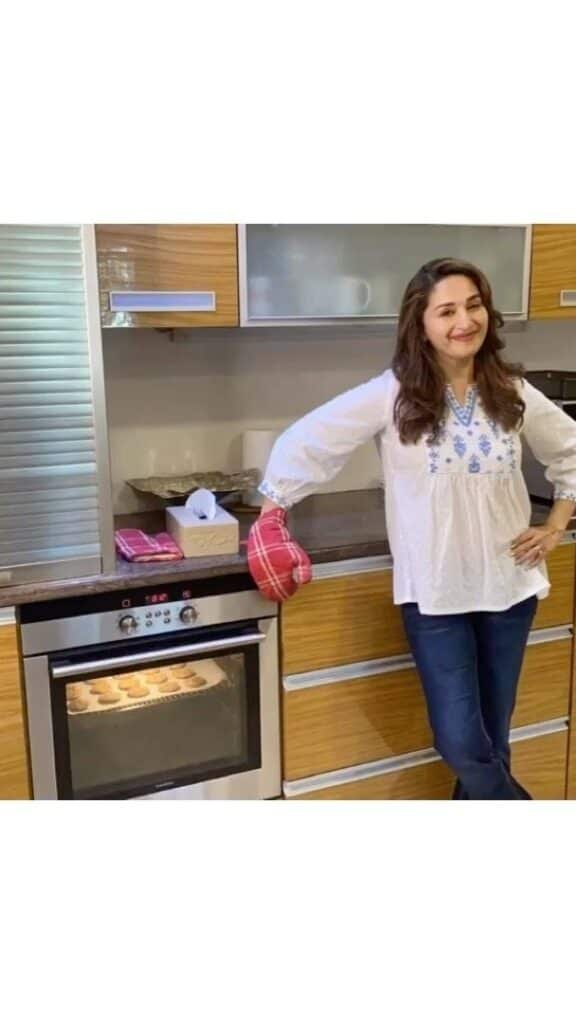 You can see her love for cooking in her face as well as in her kitchen. She has an open-kitchen space adjacent to her living room, a simple yet very classy kitchen featuring light teak cabinets with a contrast brown granite worktop and frosted glass upper cupboards. Watch her making Kanda Poha with her husband.
Malaika Arora
Malaika Arora uploaded a video of her cooking Malabari veg stew. The celeb added how much she loves cooking and gets very little time following her passion. We were impressed by her kitchen's all-nude modern decor. Wooden cabinets, beige worktop, and glossy beige floor tiles- totally nailed it.
Kartik Aryan
We got a glimpse of Kartik Aryan's kitchen in one of his videos where he was seen doing dishes. The current youth crush has a pretty simple, modular open-kitchen featuring wooden cabinets, a tiled backsplash, and a quartz worktop. The most amazing thing that we noticed is a huge Boat speaker kept over the kitchen wall.
Sidharth Malhotra
The actor posted a video of himself looking cute and cooking butter garlic prawns which according to him turned out to be pretty amazing. We don't know about that but you can take a sneak peek inside his kitchen.
Shilpa Shetty
The former Bollywood actress, yoga instructor, and fitness enthusiast loves baking and is often seen in her kitchen cooking and indulging in Indian foods. Take a look at her kitchen yourself!
Radhika Apte
Radhika Apte posted a picture of herself in her kitchen preparing Mussels for her lunch. We love her white, bright, toned-down kitchen palette. All-white cabinets, wooden worktop, and an accent kitchen wall with posters and illustrations– totally Radhika Apte!
Sunil Shetty
Sunil Shetty and his wife Mana Shetty were seen in their kitchen trying to cook something we still don't know. All we know is he forgot to add dhania powder. However, we adore the minimalistic contemporary kitchen decor.
Aanya Pandey
As we thought she doesn't know anything about cooking but her kitchen decor is lit. The funky alphabetical black and white backsplash creates the center statement of the kitchen. Totally modern, chic, and Pinterest-worthy!
Vidya Balan
Very recently the actress has shared a video of herself preparing modaks. Take a look at her modular kitchen, nude cabinetry with contrast yellow-tile backsplash- simple and inspiring.
Diljit Doshan
Take inspiration from this nude, warm, and cozy kitchen owned by Diljit Dosanjh. The actor uploaded a video of himself making easy pancakes at home. White cabinets, tile backsplash, a gorgeous granite kitchen island, and lots of sunlight. Perfect modern-style kitchen elements.
Huma Qureshi
Huma Qureshi posted a video on herself making cheesecake on her brother's birthday. It's a very simple Indian modular kitchen featuring brown laminated cupboards and patterned tiles on the backsplash which anyone can easily recreate without costing a fortune.
Neena Gupta
Neena Gupta loves cooking and often shares recipes and videos of herself in her kitchen. Take a look inside her very-Indian style kitchen- wooden-finish laminate cupboards, glass windows with a beautiful view, and masala containers everywhere!
Lisa Heydon
Lisa Heydon looked gorgeous sharing a red velvet cake recipe in her kitchen. An open kitchen with white cabinetry with a kitchen island cum dinner table.Very simple, sophisticated, and functional!
Conclusion:
During the quarantine, many of the celebrities posted their video in their kitchen honing their culinary skills (and some honing their dishwashing skills).
So just like Bollywood celebs, it doesn't matter whether you can cook or not. Your kitchen is the heart of your house and it must compliment your persona and your sense of style. And what's better than celebrity-inspired kitchen decor.
While designing your celebrity-inspired kitchen the most difficult part you will encounter is space crunches. Nowadays, apartments have very little space left for the kitchens that become very cumbersome while designing and decorating. For that, we have 51 small kitchen ideas for you. Give it a read.
Lastly, which Bollywood celebrity kitchen did you like the most?
For us, it was Alia Bhat's minty fresh kitchen which is simple, soothing, and at the same time very eye-catchy. You can easily get ideas to design a kitchen similar to Alia Bhat's and it's not going to make a hole in your pocket.