Introduction:
Kids naturally have the notion to explore. They will go everywhere you tell them not to.
A kitchen that is the heart of a house is also the place where the most dangerous stuff is kept. It's rife with inflammable objects, hard surfaces, sharp corners, knives, forks– all of which seems to fascinate a child.
As a parent, you realise, you cannot stop your kid from entering the kitchen. Also, that the kitchen is a great place to learn and explore for a growing child.
You spend most of the time in the kitchen cooking, talking and eating so it's important to have a kid-friendly kitchen. And that's why today in this article we will talk about kid-friendly kitchen designs.
These ideas will not only make the kitchen safe for the little ones but will also help them develop good habits from an early age.
Kid-friendly Kitchen Ideas to make your Kitchen Child-Proof
Kid-friendly kitchen surfaces
Having kids around the house means lots of spillages, wear and tear. So, the first thing that you need to consider is durability and wipe ability. Quartz is a great choice for kitchen countertops. They are man-made and far less porous than granite, which means less likely to stain.
Laminate has always been a parent's favourite for being inexpensive and durable. Laminates are available in a variety of colours, textures and patterns. Some of which look exactly like granite. Laminates might not be as durable as quartz, but they do stand up to spills.
Consider the forgiveness of the materials around the kitchen. For example, glass tiles are not good at stock resistance. Granite is durable, but quartz is nearly indestructible.
An easy-reach pantry
The pantry is often neglected when designing a kitchen. And unfortunately, the consumable zones are left untouched.
For a child friendly kitchen, build pantry cabinets with drawers reserved for kids. Make sure the drawers fully extend when open and are easy to reach for your little ones.
Keep it filled with healthy items like fruits, yoghurt, nuts, popcorn, whole wheat baked items, and everything good to snack on. It will not only help kids develop a healthy habit from an early age, but it's also the best way to avoid those cute, annoying requests.
Lowering the countertop height
It's a smart way to child-proof your kitchen. Lower one part of the countertop to your kid's height to allow him/her to prepare his own food.
Having the kitchen countertop well within their reach will stop kids from standing on other furniture, which otherwise leads to many unfortunate incidents.
Kid-friendly storage
Organise kid's items by installing a separate drawer in the lower-cabinet section. Place kid's plates, bowls, cups, and other daily used utensils so they can have everything in hand at a safe operating level.
A refrigerator that has multiple drawers for storing different items is ideal for a family kitchen. You can store healthy food in a drawer easily accessible for the kids. This will allow your kids to serve themselves when you are not around.
Kid size furniture
A child-friendly kitchen means a kitchen that is easily accessible to the kids and that begins with kid-size furniture. We are not talking about miniature tables and chairs. But why not a 2-tier dining table? It will allow your kids to sit without needing your assistance.
Look for step chairs and tools so that the kids can get at the worktop, meaning they may contribute to cooking and cleaning dishes.
Multi-task kitchen island
When you're planning a family-friendly kitchen, utility and versatility are what comes to your mind. A kitchen island can serve you as a dining space, a snack bar for your kids, as well as a study table so that you can watch over your kids while preparing dinner.
Open style kitchen
The kitchen and the living room are the places where you spend the most time with your family. It's where you gather, eat, talk and play. An open style kitchen is becoming more and more popular because it's user-friendly. It allows you to be in touch with others while you prepare food.
A chalkboard wall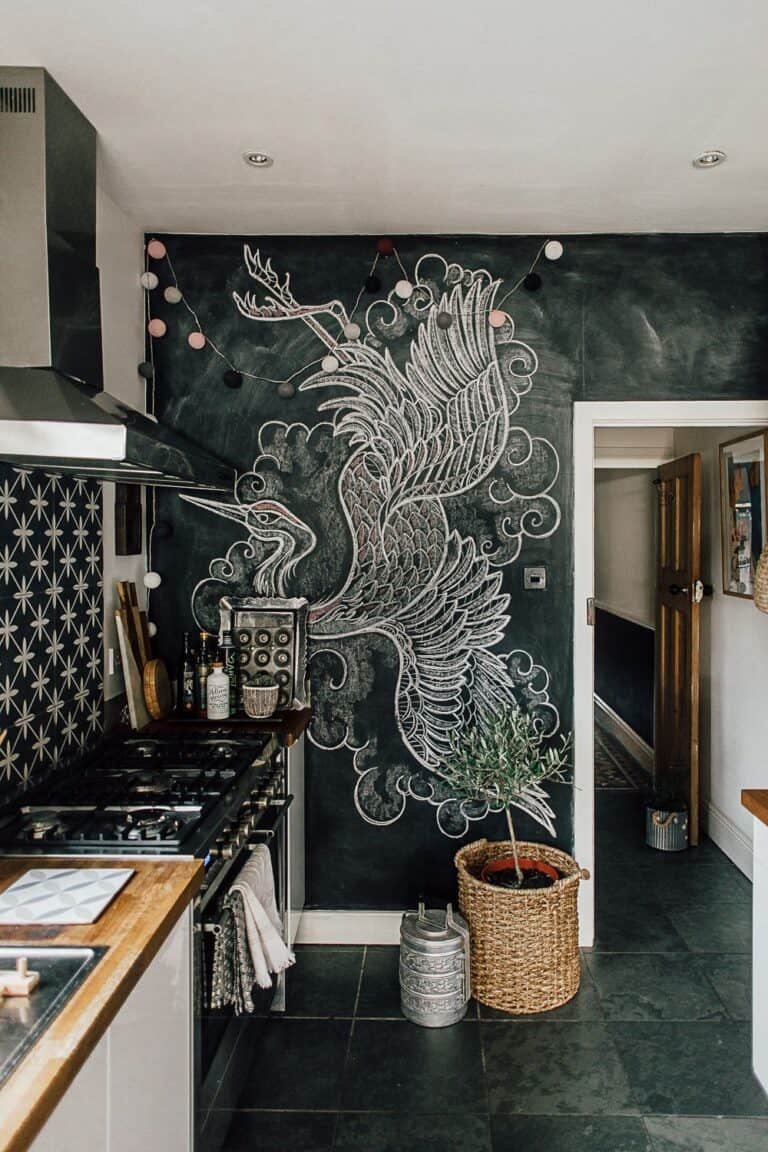 A chalkboard wall in the kitchen is trending now. You can use it to write things such as grocery lists, draw an art piece, or write an inspirational quote.
But a chalkboard wall will make more sense when installed in a kid-friendly kitchen. For children, chalkboards are a wildly exciting thing. You can keep them busy drawing for hours while you cook an avalanche dinner.
Be creative
Kids have a hard time reaching the faucets. They would stand on a chair or stool, which can be dangerous. Touchless faucets are the smartest solution for a kid-friendly kitchen.
You can consider picking a rounded countertop, lower the windows for plenty of sunlight and better views, choose funky colors that kids adore or hang pictures of your family. Explore the creativity to make your kitchen stand out.
Kid-friendly kitchen ideas to enhance kitchen safety
Cannot remodel your kitchen? Don't worry; here are some simple tricks and hacks that will help you baby-proof your kitchen.
Round those sharp edges
If you don't want to use corner protectors in every nook and cranny, consider choosing surfaces with round edges because children can reach everywhere.
Switch to kid-friendly cleaners
Choose non-toxic cleaners and, if possible, clean the surfaces with natural cleaners. Little vinegar, baking soda is able to rid of the toughest stains when used the right way. If you cannot find a natural, organic substitute, keep them out of reach from the kids.
Install locks on cabinets and drawers
Install locks on the cabinets and drawers that keep the dangerous items. You can never tell what can go wrong if you have growing kids at home. Installing locks is a primitive way to prevent young children from gaining access to dangerous stuff.
Relocate dangerous items
Even if your kitchen doesn't permit remodelling of cabinets and drawers, you can always organize the cabinets with innovative storage ideas. Relocate sharp objects and flammable items that were located in an accessible place to a new place that is completely out-of-reach for the kids. As long as you keep the drawers and cabinets locked, you and your family are safe.
Install a baby gate
If you have a small baby that loves to roam around and you always panic if he hits his/her head or trips or chews on something unnoticed, you better install a baby gate.
Wrapping up
Designing a kid-friendly kitchen means a kitchen that is safe, easily accessible to the kids, organised according to everyone's use, and of course, a kitchen where you can have your mental peace while cooking.
First, think of the surface that needs the most cleaning. Spillage, staining, wear and tear is inescapable. So look for a material that is easy to clean and durable.
A two-tier kitchen island would be an amazing addition to any child-friendly kitchen. If not, keep step tools. Place kid's plates, bowls, cups, and other daily used utensils in a separate drawer in the lower-cabinet section. A kid-friendly pantry and a refrigerator where kids can get easy access to healthy foods will make them develop healthy eating habits from an early age.