Make best use of your kitchen space using these small kitchen design ideas
Are you left with a small and odd kitchen space? And you're confused about how to make it look good while maximizing space? You must be desperately looking for small kitchen design ideas online. And we are at your help.
Small apartments come with plants of comfort and charm but sadly, they lack in offering adequate kitchen space. However, bigger is not always better as true as it is, there are more than a hundred small kitchen ideas to make it functional and spacious.
With the right small kitchen decor ideas and style solutions, it won't matter what size kitchen you own. We have 51 small kitchen design ideas for every type of kitchen be it U-shaped, pushed a corner one, or confined with walls.
Continue reading and we promise you will come out with plenty of small ideas and inspirations to suit your budget and style.
Install a small table
You may or may not have room for a large dining table. But when there is a space crunch it's always better to opt for a small table with a few stools instead of heavy chairs. Pick something which is light and fits in a corner to maximize space
Chose light colors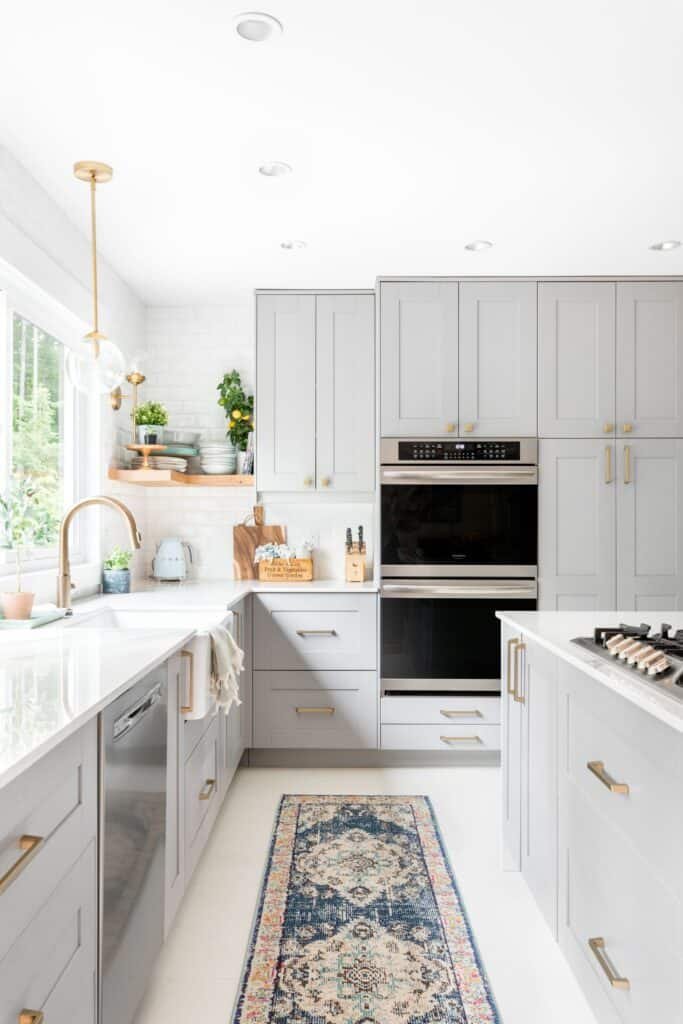 The lighter the color the larger your kitchen feels. By choosing a light palette for the cabinets, countertops, backsplash as well as walls you can visually expand the kitchen space. It's better if it has large windows and lots of sunlight, if not think about other ways to bring in more light.
Go green
Plants brighten up any space. It's a great idea to grow a herb garden on the windowsills or keep a large indoor plant over the fridge to liven up space.
The all-green kitchen above is owned by Dakota Johnson, the actress from the infamous movie Fifty Shades of Grey. It's obvious that she can't get enough of green, but it's what stands out here is, it's a pretty tiny kitchen and the use of green is inspiring.
Consider glossy and shiny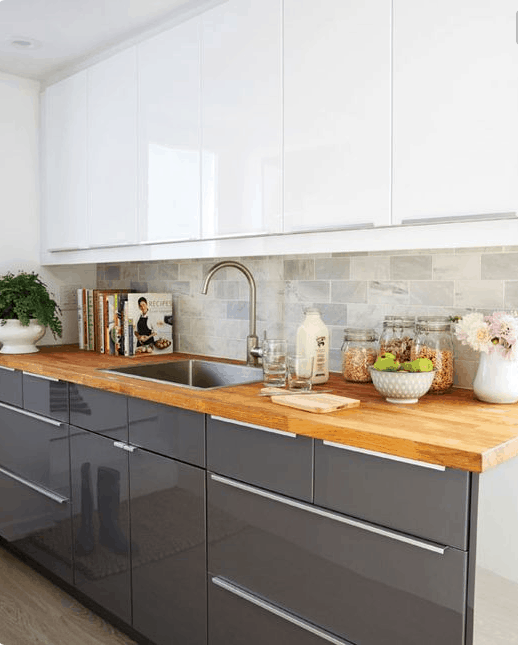 Choose glossy laminations or paints for the cupboards. It reflects light which makes the small kitchen design appear much larger than it is. Shiny wall tiles will also give the same effect.
An all-white kitchen
If your kitchen is really tiny consider going for an all-white kitchen. White reflects light better than any other color and also keeps the room cooler. The only thing you need to worry about is the cleaning and maintenance.
Hanging pots and mugs
Why would you want the pans and pots to occupy most of your storage space when you can show them off by hanging them from a rack? Try not to use the worktop for storage. Not only will it grab your precious space but also make working in the kitchen difficult. You can also install wall hooks to hang small mugs, cups, bowls, knives, spoons, etc.
Say no to upper cabinets
Upper cabinets are often nonfunctional especially when the ceiling is way too high to reach. Instead, opt for open shelves as they give quick access to dishes and other things in need. From architectural viewpoints, it makes more sense to have a well-framed window with lots of sunlight and ample storage space beneath the worktop.
Take a look at Alia Bhat's kitchen decor- a beautiful kitchen with pastel colors where she clearly dumps the idea of upper cabinets. She opts for open shelves instead. A great hack for small kitchens.
A corner table or worktop
If you are left with a narrow corner why not use it? Install a floating table on a blank wall and use it as a countertop. Or install a foldable dining table that flushes with the wall when not in use.
Install stunning light fixtures of pendants
Pendant lights or light fixtures are great ways to bring in more light in the small space while grabbing all the attention of the guests. Opt for pendants or light fixtures with gold, bronze, or copper finish. Avoid busy designs and bold/neon colours as they can make the room look clumsy.
Have a look at the kitchen of the much-loved Bollywood actor John Abraham. Simple yet stunning pendants hanging from the ceiling- is what you need to make a small dark space appear much larger than it is.
Highly organized cabinetry
When the space is limited you don't want to waste any of it. So, think of new ideas to maximize the space inside the cabinets. Use shelf- risers, organizers, spice boxes, and anything to keep everything streamlined and well-organized.
Keep it clutter-free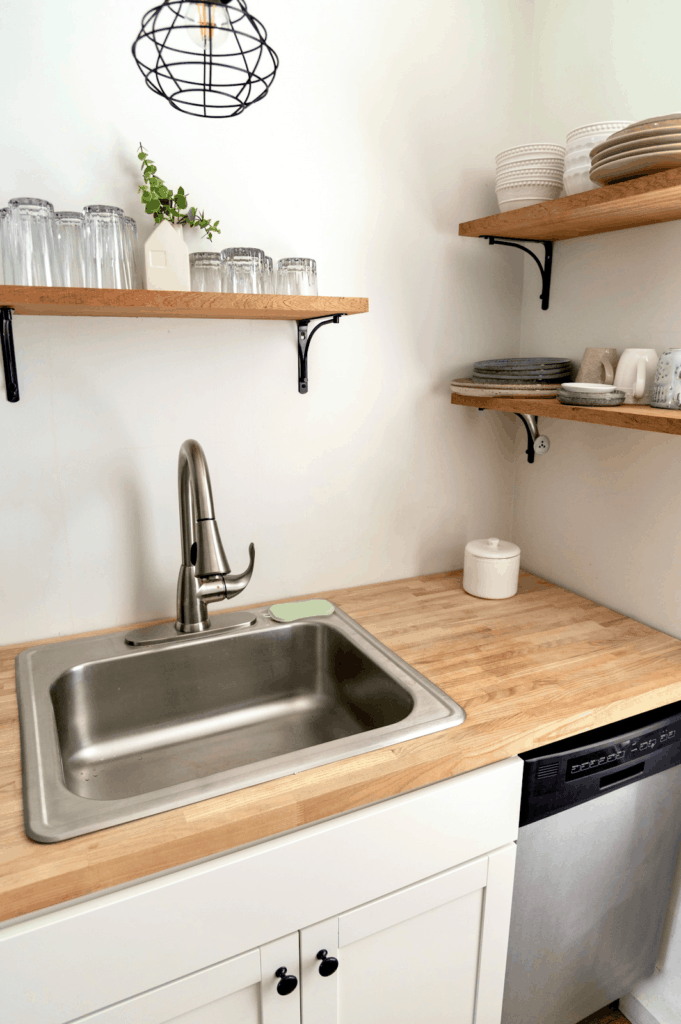 A kitchen that is messy and full of clutter gives out a feel of busy-small space. So, stop hoarding plastic containers and dishes that you hardly ever use. Get rid of all the unused things once in a while.
A horizontal view
Did you know that horizontal lines can really make a difference in the way it looks? While vertical lines give an illusion of a narrow confined place, horizontal lines make it appear wider than it is. Paint horizontal patterns on the wall or use horizontal tiles to make your kitchen feel spacious.
Mirrors on the wall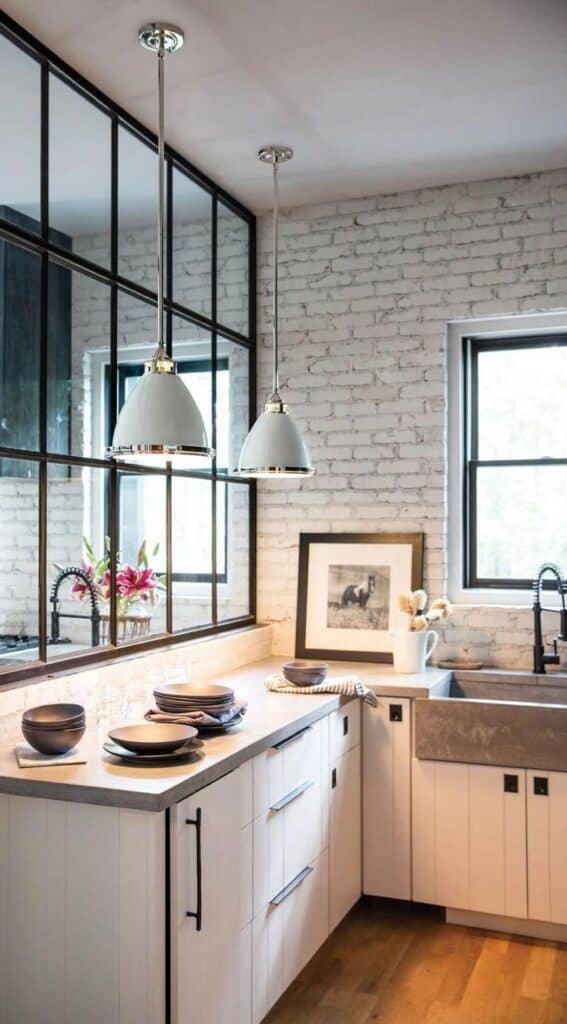 Mirrors have the ability to amplify the space in a room. Install a mirror on the opposite or beside a large window to cast more sunlight in your kitchen. A mirror will make use of the daylight to brighten up any space.
Go modern and sleek
Modern designs embrace minimalism and help the kitchen look sleek and streamlined. Opt for inbuilt kitchen appliances and stainless steel worktops with lower cabinets and with lots of storage instead of installing them at eye-level to keep it minimal and mess-free.
Say no to bulky hardware
Skip installing chunky hardware on your cabinets. It will give a sleek and more streamlined appearance.
Install lights under shelves
For an instant liven up atmosphere add lights wherever you can- natural or artificial. A small kitchen with poor lighting is the worst kind of kitchen. Install strip LEDs under the cabinets or on the shelves.
Consider buying small appliances
Small kitchen appliances don't necessarily mean cheap and flimsy items. There are plenty of small, sleek, and stylish kitchen appliances that fit a small kitchen. Else, opt for multifunctional appliances.
Wallpaper on the ceilings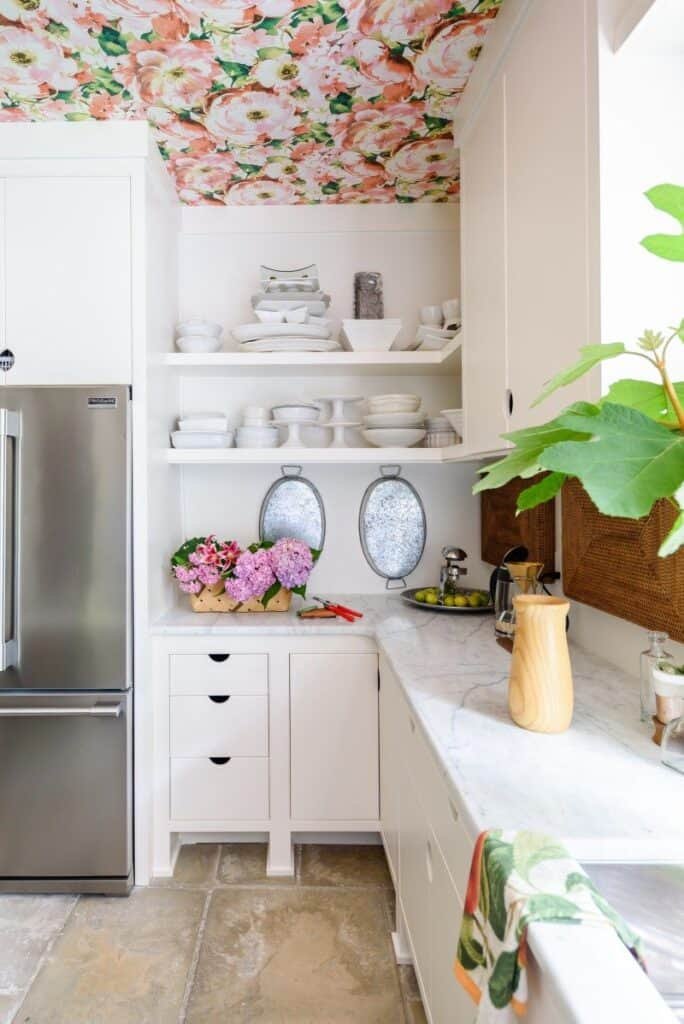 You might not have a full wall for wallpapers. So you have to think of a creative way out. Use the wallpaper high close to the ceiling and use it as an accent wall. Choose light colors and simple motifs with beige, copper, or gold finish.
Reflective marbles
Marbles or luxury tiles that reflect light can make a great contribution to a kitchen. As it reflects light it makes any space look larger. There are many less expensive alternatives to marbles that can give you similar results.
Accentuate your kitchen with a pop of color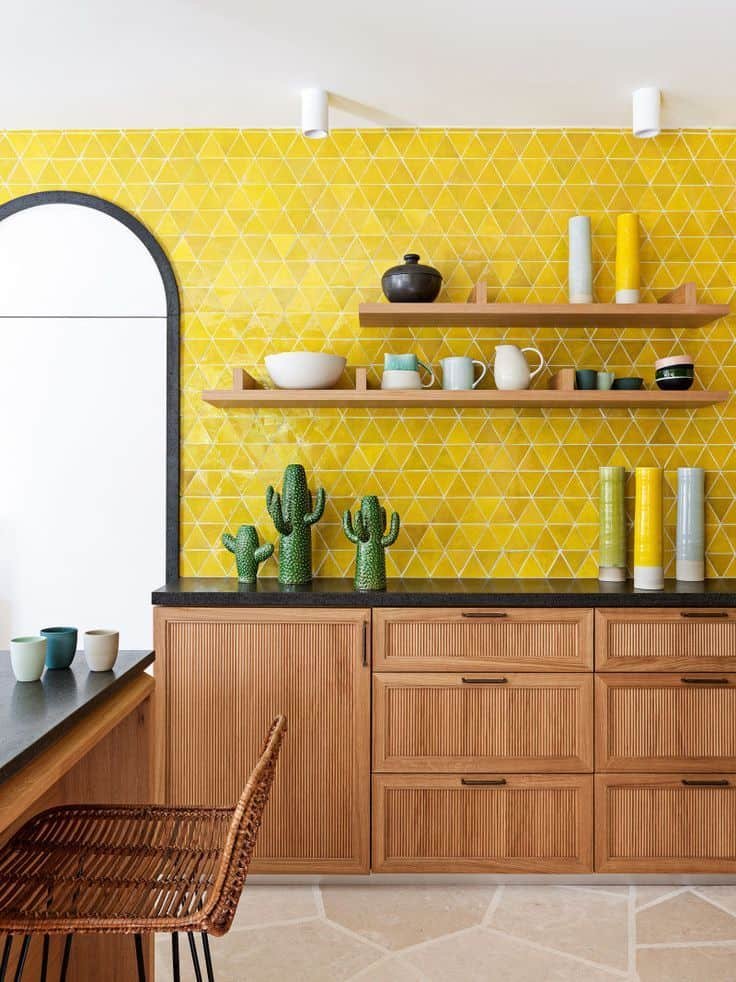 If you are against going monochrome you can accentuate it by painting a wall to create a statement. Blend neutrals with a bold contrasting color to highlight small parts. It will enhance the feeling of roominess.
Face your windows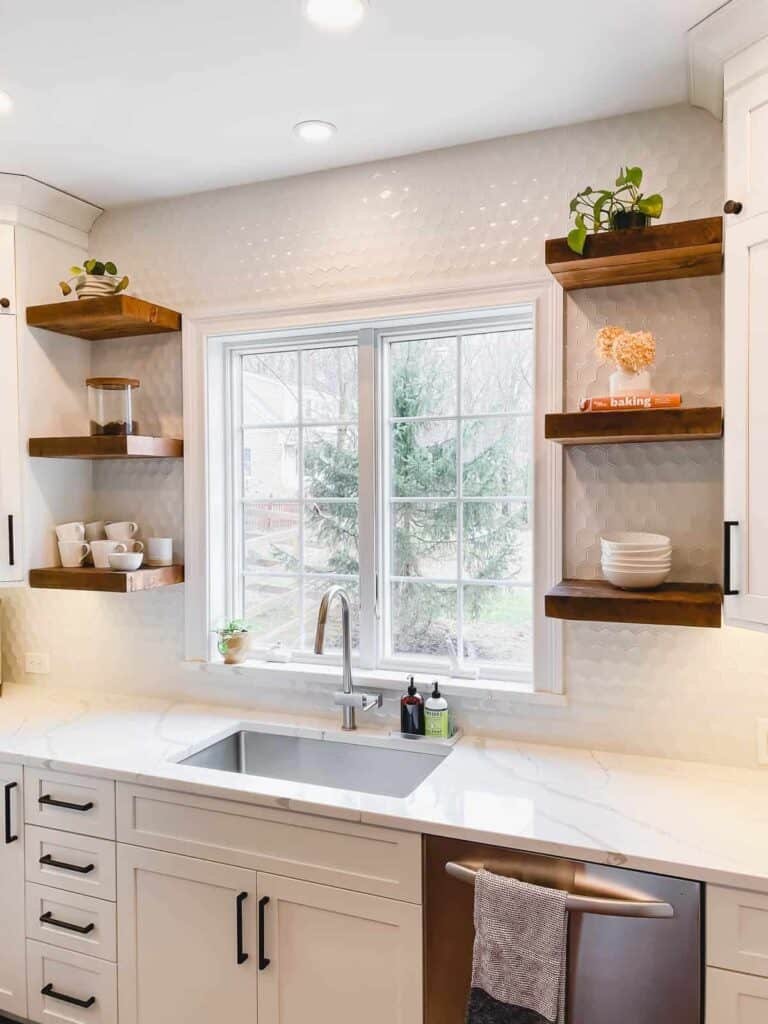 To make it less claustrophobic first make space for some windows. Use glossy material on your worktop the way that it helps bounce back the light inside the room. Additionally, the window will also prevent the kitchen from being unbearably hot.
Make most of the kitchen island
Put use to the ends of the kitchen island by incorporating built-in shelves. You can use it to hide all sorts of kitchen clutter.
Grow love for metals
Like marbles and mirrors, metals or metallic finish items also reflect light thus can make the space appear larger than it is. Moreover, it gives your kitchen a modern and professional touch.
Think before installing another cupboard
Avoid installing too many cabinets as it only makes the space look crowded and feel claustrophobic. Try to keep the room as open as possible. And think twice before boxing in another cupboard.
A portable stove
If you don't cook much opt for a portable stove or an induction. They are handy, easy to move away, and save so much space. You can literally store them away when not in use.
Use your countertop as a dining table
An innovative and creative idea is to extend your worktop and use it as a dining table. It doubles up the space in your kitchen. What's more, is that you have more working space in the kitchen when the dining table is not being used.
Scale down on dishwares
Do you really need to have that extra set of dinnerware or that fancy mug? It's always better to cut down on your kitchenware and you will be amazed how much space you can save.
Consider wall niches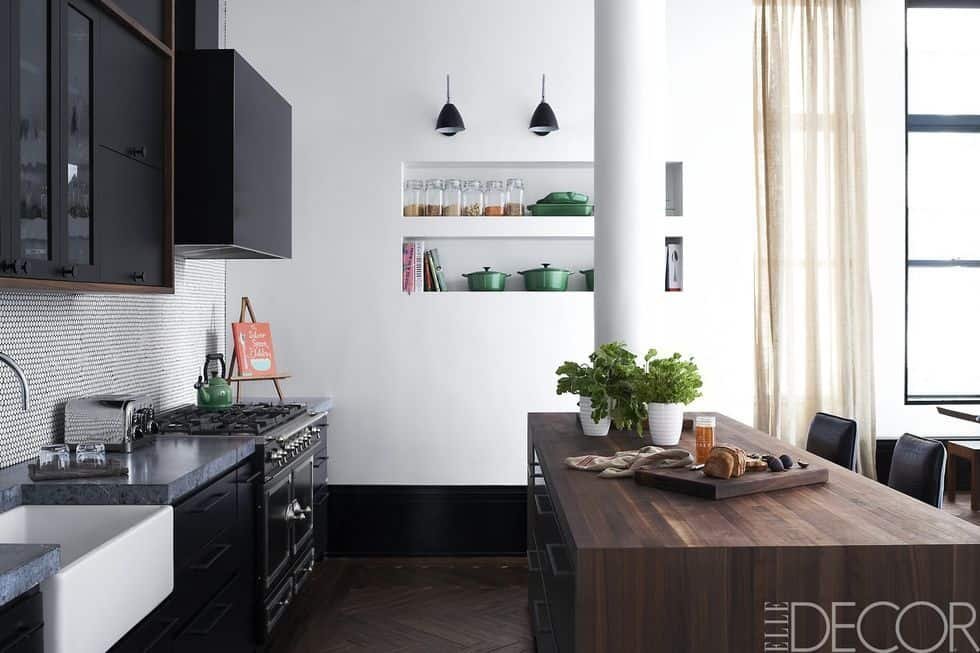 You can literally build holes or niches on the wall to avail additional storage space. You can also put decorative items here or some of your unique pots and pans that act as a statement piece in the kitchen.
Let it flush with the living room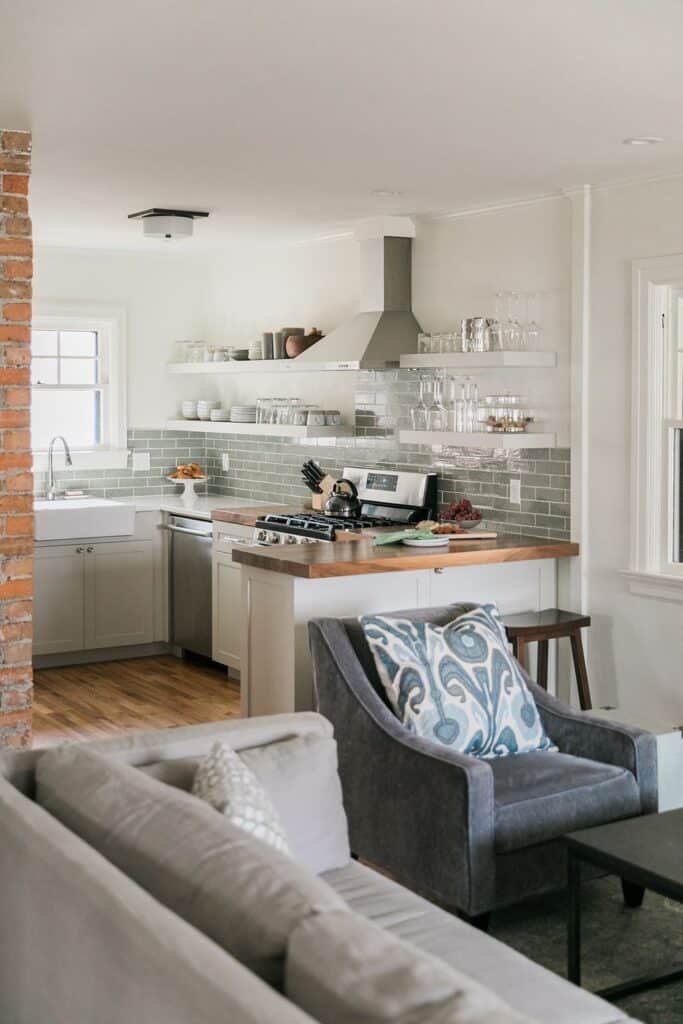 If you have an open-kitchen space alongside the living room, you have to keep coherence in the design and the color scheme. Pull the kitchen and the living room together with similar wallpapers and coordinating color shades.
Consider large tiles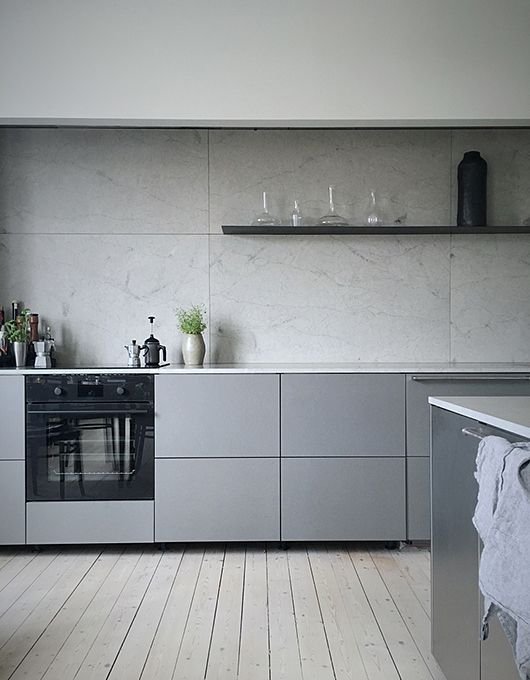 Consider large tiles for the walls or the kitchen backsplash and see how it can make a difference in making a room appear much more spacious. Using lights in the right areas to accentuate the tiles can also visually enhance the spaciousness.
Install a smaller sink and get one with a cover
Opt for a sink with two chambers and a cover. It allows you to work with a bigger sink when you need it. And when you don't you can simply cover one side and use it as an extended worktop. You can easily find them online. You can install two different sinks in order to avoid traffic in your kitchen space.
Walls with in-built cabinetry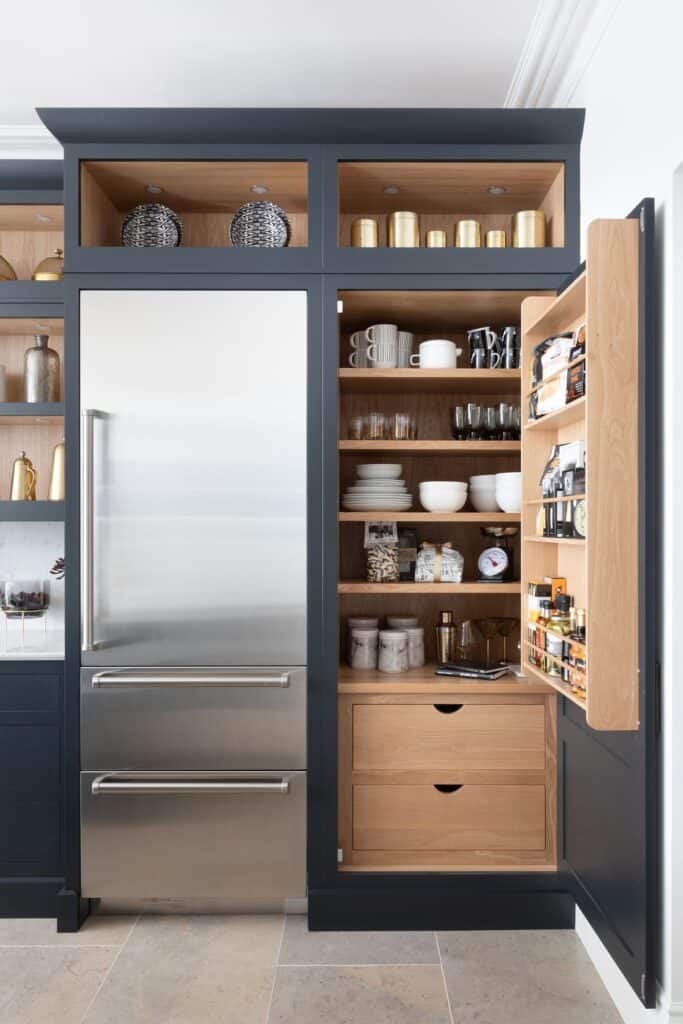 Shift the storage space inside walls by installing built-in cabinets that you can directly pull out of the wall. It's a little expensive but also the best at saving floor space.
Strategic compartmentalizing
Take some time and plan a strategy for compartmentalized storage space. There should be separate compartments for containers, bowls, kitchen towels, glasses, spoons, forks, knives, etc. It makes the kitchen look clutter-free and keeps everything at hand.
Using the space over the cabinets
If you have space left between the cabinets and the ceiling make use of it. Utilize the space for storing lesser-used things.
Create a statement
For a tiny kitchen, it's important to make it both functional and communicative. What I mean by this is, try to create a statement in the kitchen be it a bright color cabinet or on a unique pattern on the backsplash.
Hide the appliances
To keep the working space clear consider hiding your kitchen appliances such as the coffee maker, toaster, blenders inside an appliance garage. How about a hydraulic cabinetry like this one here?
Glass doors
Expand the view of the room through a glass door to create an illusion of a much larger space.
Show off your dishes
Install open shelves and a small kitchen layout to brighten up the space. Display your prettiest thing on the wall-to-wall open shelves and use the cabinets to tuck away less-attractive kitchen wares.
Go high contrast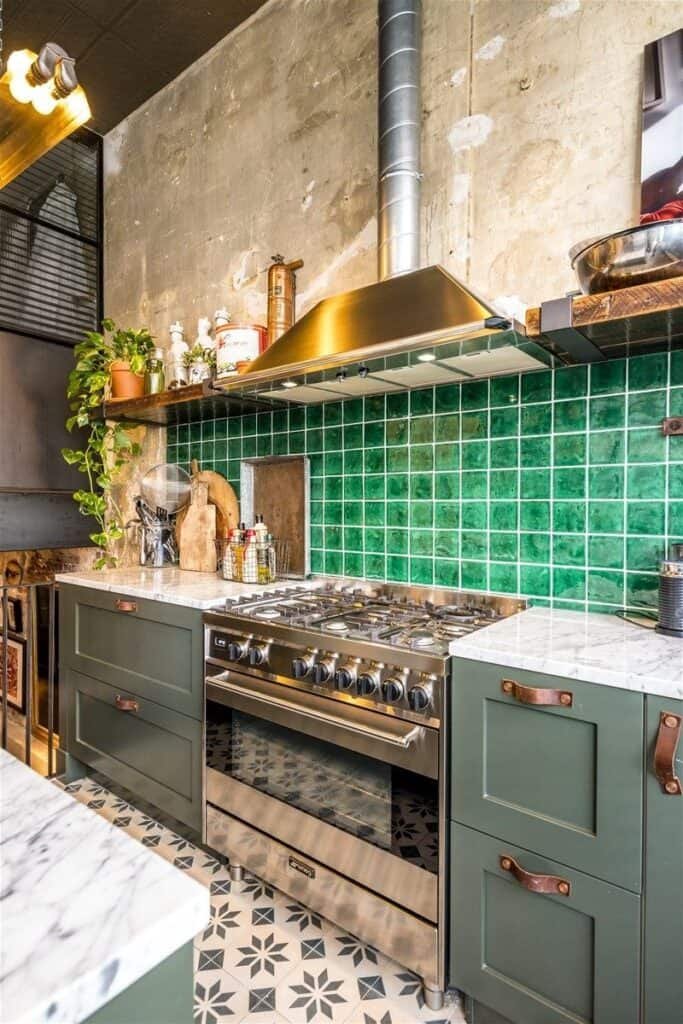 Pick one neon or highly saturated color for your cupboards, dining table, stools. Then tone other things down by incorporating a neutral color rug or a mutated artwork of the same bright color.
A DIY pantry
Don't stress out if you don't have space or the budget for a new pantry. You can always make your own. Put up some shelves where you like it or even better, repaint your old bedside table, a book rack, a locker, and hang some magnetic knife strips and some magnetic hooks to save more space.
Hide the refrigerator
This might be on the costlier small kitchen idea side, but it's totally worth it. Consider moving your refrigerator inside the cabinetry and see how seamlessly it covers the entire kitchen and makes it more streamlined.
Patterned tiles on the kitchen floor
Beautiful patterned tiles in a tiny kitchen can break the monotony. It instantly grabs the attention and can make space feel roomier.
Stretch a kitchen rug
A kitchen rug looks great in a kitchen that is narrow or pushed in a corner. Look at this small kitchen how it uses simple grey brown furnishing and a beautiful back and white patterned rug to accentuate and create a contrast.
Vivid color appliances
If you want a pop of color in your kitchen but don't want bright color on your walls try a vivid color appliance instead. Like this room in the picture, not only it looks cool but also feels warm and cozy.
Use three colors
One rule of thumb of a small kitchen design is using only three colors for the entire kitchen as too many colors can make a tiny space overcrowded and messy. Sticking to a three-color-scheme will help make the space look more organized and planned than most.
Color block kitchen
This kitchen uses color block technology to disguise the upper cabinets. You can hardly tell that there are cabinets installed all the way up to the ceiling. They also have dumped the hardware.
Embrace grey:
Many interior designers believe that dark colors with proper lighting can actually make a space appear larger. Look at this picture, the inky blue paired with teak wood and lots of natural light giving out a soothing and intimate ambiance.
Put Artwork
Small kitchens look great when you put up artwork. It's an easy hack of adding some chic and style to your kitchen. Watch how Meg Ryan, the award-winning actress from the movie When Harry met Sally is using small artworks to amp up her tiny kitchen space.
Install a pegboard
Pegboards can add storage spaces in areas where you didn't know you can keep things. It's like a boon for small space kitchens.
Make use of every corner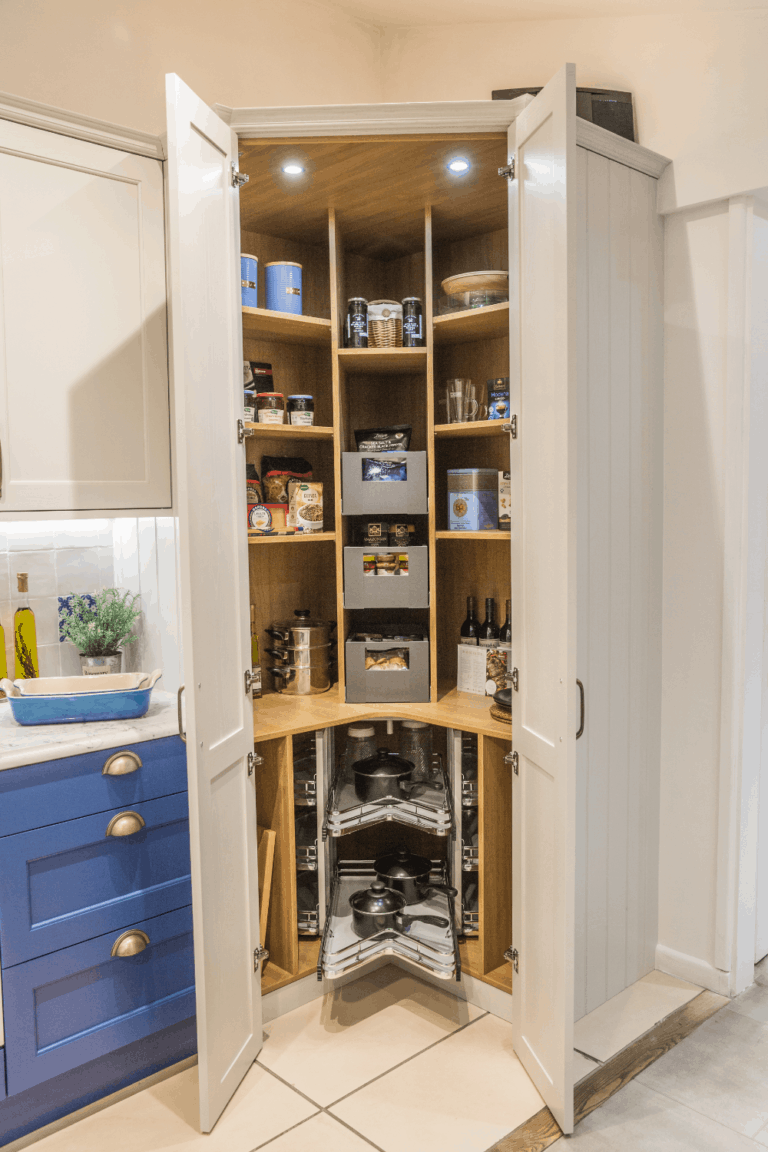 Every inch is important when it comes to tiny kitchen decor, even the space that is left behind your stove. A great idea is to install narrow and deep pantries.
Use storage baskets
If you ever run out of storage space in your cabinets or pantry use baskets to store essential things. Find the ones that match your kitchen decor while offering storage.
Conclusion:
After 51 ideas, it's not uncommon to get confused. I get confused with much lesser options!
So, some final tips for you: the simplest idea is to keep your small kitchen minimalist, the colors are your choice be it dark or light but stick to three basic colors.
If you are organized and hardworking, which I am definitely not! Keep the shelves open, it requires cleaning once in a while, but it makes the tiny kitchen feel more open. If you want a seamless and streamlined look, opt for in-built cabinets.
Hiding your kitchen appliances inside cabinets is a great idea, but also more expensive than most. Keep plants if you like and can take care of them. Decorate your kitchen with art pieces, make a statement with tiles and accent walls, bring in more light and embrace the coziness of smaller kitchens.
Your goal is to get the most out of the little space. If you live alone you can pick any idea but if you are a family you need to come up with a strategic storage plan.
So which small kitchen design idea did you like the most? Do you want more ideas? Well, I can give you 51 more and hope you don't get confused even more! So, please ask out your queries and let me know in the comment section below.