Are you someone who makes choices based on zodiac signs?
If yes, you must consider it while designing your kitchen. If you are remodeling your old kitchen or building a new one, you have landed on the right page. Here we will show you how to design a beautiful kitchen based on your zodiac sign which reflects your personality.
A kitchen is the heart of your home and it should reflect your personality. It is a place for gathering and entertainment. Some like it large and spacious; some like it small and comfy while some prefer something bold and vintage.
By following zodiac kitchen design you let your zodiac sign choose what is best for you. Below are some kitchen star home design ideas based on your zodiac sign that will help you show your personality through style.
12 Kitchen Signs You Should Check Out
Aries (March 21 – April 19)
Personality: Bold and Creative
Sign: Fire Sign
The first sign of the 12 Zodiac signs Aries is into bold shades and dramatic home decor. So, forget about all neutral kitchen designs. A hint of crimson paired with grey or sparkly white reflects the true image of a fire sign with a creative mind. Don't like red? Try yellow, soft orange, or turquoise blue to keep it light and playful. You can also try incorporating bold statement pieces such as bright pendants or try an accent wall with textures and patterns.
Taurus (April 20- May 20)
Sign: Earth Sign
Personality: Strong and elegant
Being a Taurus you will crave comfort in your kitchen. You will be happiest around neutral colors. A wooden furnished kitchen paired with earthy soft hues like grey, white, brown will fuel your desire for comfort and elegance. Another quality of the earth sign typically Taurus is, they like to stay grounded. Bring nature inside by placing succulents or indoor plants over the worktop or the windowsills.
Take a sneak peek into Jessica Alba's kitchen- a small yet cozy space with grey cabinets, wooden floor, coupled with a white marble-wood worktop. How cozy does it look? A perfect hiding place for the Taureans.
Gemini (May 21- June 20)
Sign: Air Sign
Personality: Creative and sociable
Gemini symbolized as a twin personality is overly energetic and very creative. You love to be surrounded by friends and family. For an overly social sign like Gemini, an open-concept kitchen where you can cook and entertain at the same time seems to be the best match. As an air sign, you always desire space. So as a kitchen sign, try to bring an island with lots of seating arrangements. Decorate it with eye-catchy bar stools or chairs with bold prints to show your exotic side. Mint green, lemon yellow, white suit you the most.
Cancer (June 22- July 22)
Sign: Water Sign
Personality: Traditional and sentimental
Filled with nostalgia you feel happy around a space that is traditional and welcoming. You often like to cook and show your affection through food. Your sentimental and nurturing side should also reflect in your kitchen. Think about traditional kitchen sign ideas- a large rustic table, wooden ceilings, chairs, and vintage style chandelier for your family and friends that feels right at home. Soothing colors such as pearl white, grey, pale blue match your soft and amiable nature.
Leo (July 23- August 22)
Sign: Fire
Personality: Adventurous and Regal
The royal sign Leo enjoys attention and has a luxurious sense of style. You enjoy your freedom and love to be in an open space under natural light. Your ideal star home design should have lots of bright light and classy clean furnishing in your kitchen. Experiment with royal colors such as gold, yellow, and orange. Bring in gold and bronze accents, a quartz crystal zodiac counter, plush chairs, and grand chandeliers. This will reflect your love for royalty and adventure like hosting a big dinner for your guests.
Virgo (August 23- September 22)
Sign: Earth sign
Personality: Modest and practical
Known to be perfectionists, Virgos likes everything to be neat and organized. You find joy and peace in minimalism and as a kitchen sign, this is no exception. All-white cabinets with well-organized storage space fit with your modest personality. To show your love for details try adding stylish floating shelves. Your main goal is to keep everything neat and clean so don't shy away from going all neutral. Being an Earth sign you are drawn towards soothing pastel colors.
Libra (23 September- October 22)
Sign: Air Sign
Personality: Diplomatic and romantic
Libras are stylish diplomats who want a kitchen with balanced and harmonious decor. You truly are a romantic sign who loves to be in fashion and has values for minimalist aesthetics. Representing an Air sign you will feel loved around soothing colors such as grey, blush pink, baby blue, lavender.
Take a look at this kitchen owned by Kim Kardashian- a beautiful minimalist and modern theme of simple grey and white which reflects a Libra's love for perfection and balance.
Scorpio (23 October November 21)
Sign: Water Sign
Personality: Passionate and soulful
Scorpios are bold and strong characters who are passionate but also have a sensitive side. You are calm, deep, and mysterious souls who would either prefer a soft white-in-white or a dark intense kitchen decor. Black cabinets with gold, bronze, silver metallic finishes can do wonders. For a light, more sophisticated kitchen try white, ice grey, powder blue, or purple if you wish.
Look at this gorgeous black and bold kitchen decor owned by Leonardo DiCaprio who represents the Zodiac sign Scorpio.
Sagittarius (November 22- December 21)
Sign: Fire sign
Personality: Adventurous and fun-loving
A Sagittarius is unstoppable when it comes to adventuring. They are outdoorsy types who love nature and everything antique and unique. The perfect zodiac kitchen for you should be something large, spacious, and full of light. Bring the outdoors inside by creating a herb garden over the windowsills. Opt for a big rustic island and decorate your kitchen with the collectibles from your travels to add a personal touch. Shades of orange, yellow, sand are the colors of the fire sign.
Capricorn (December 22- January 19)
Sign: Earth sign
Personality: Strong and practical
Capricorn, you are a realist, a planner and you like to stay grounded. When it comes to your kitchen you prefer tradition over trend. Like a true earth sign, you like earthy tones like grey, brown, green. A hardwood floor, forest green cabinets with ample storage will reflect your love for conventionality while shades of cherry red and navy paired with a hint of antique metal finish will bring in your classic side.
Aquarius (January 20 – February 18)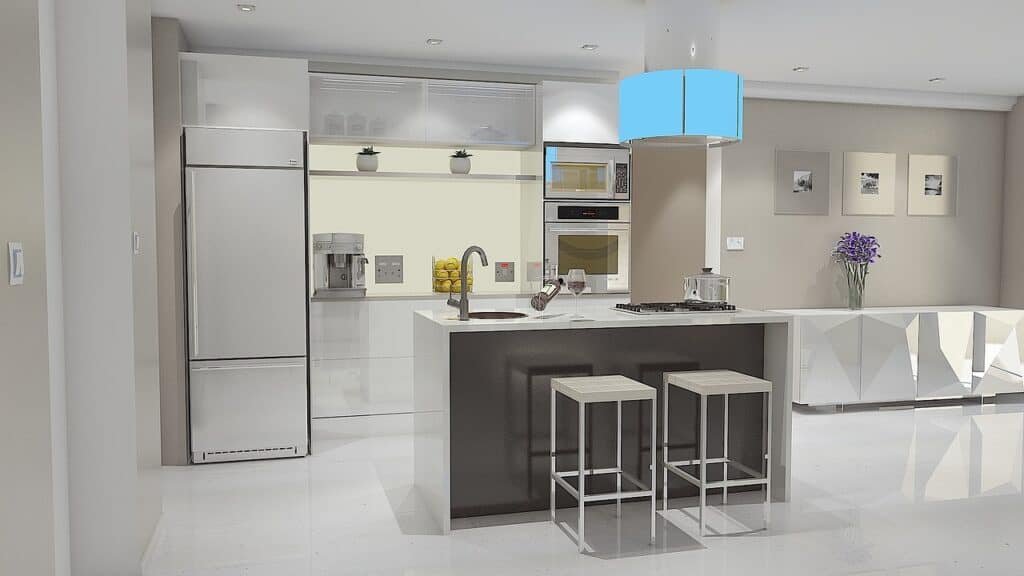 Sign: Air Sign
Personality: Artistic and intellectual
Aquarius makes great artists. They are innovative and love to stay in trend. As an Aquarius, you like bold colors and futuristic designs. You will love an ultra-modern kitchen with elegant colors such as grey paired with white or all-white which is in trend now. If you love colors try accent walls with textures and backsplashes of different patterns and designs. You can also pair navy blue cabinets with pearl white marble worktops.
Pisces (February 19- March 20)
Sign: Water sign
Personality: Peaceful and imaginative
Pisces are always after finding their Zen. It helps you to think and concentrate so your kitchen must come with peace and meditative qualities. It's in your best interest to go for calming and soothing colors. Think of pastel blue, green, peach, and stick to organic or a boho theme. Don't forget about soft lighting. Want to get creative? Try a shiplap wall or an antique rug.
Conclusion:
Those who believe in Zodiac can relate to the unique characters of the 12 existing Zodiac signs.
According to astrology-
Taurus, Capricorn, and Virgo feel more like themselves around earthy colors such as grey, brown, green, white, etc, and decors that include nature.
The three fire signs Leo, Sagittarius, and Aries feel the happiest when surrounded by warm colors. They are powerful and full of energy. They seek light and charm everywhere they go.
Water signs Cancer, Scorpio, and Pisces gravitate towards softer pastel colors like pearl white, baby blue, blush pink, lavender, etc. They are after peace and solitude thus they prefer traditional and boho over modern.
Air signs Aquarius, Gemini, and Libra want space and a well-planned kitchen. They are social butterflies who are more into modern and trendy stuff.
These 12 kitchen designs give you an idea of how your perfect kitchen should look like while considering your Zodiac preferences and choices.
In the end, don't force yourself into something. I am Leo but I have the characteristics of a Scorpio, and I don't want a regal, royal, luxurious kitchen. I can barely cook food!