Air fryers have become extremely popular as people look for ways to cook healthier meals. While deep-fried foods are delicious, they are not the best for our health. Air fryers use hot air for cooking food, so oil is unnecessary. It means the food is cooked with less fat, making it healthier. There are a lot of different air fryers on the market, so it can be tricky to know which one to choose. That's where this expert review comes in! We've gathered the 10 best air fryers in India and tested them. We've considered factors like price, features, capacity, and more. So, if you're looking for the best air fryer, this post is for you!
Workings of an Air Fryer
Air fryers use rapid air circulation technology to circulate hot air around the food at high speed for even cooking results with less oil or butter. This technology allows you to cook your favourite foods without needing large amounts of oil like regular deep-frying usually requires. The main components include
Heating Element: A powerful heating element heats up very quickly, causing warm air to circulate the food being cooked and providing even heat distribution for perfect results every time!
Fans: These fans help circulate the hot air within the unit efficiently so that all parts of your meal are evenly cooked from top to bottom. By spreading such intense quantities of heated breezes into tight spaces inside the device, they can reduce fat content while simultaneously delivering great taste.
Temperature Controls & Timers: You can adjust temperature settings depending on what type/how much food you're preparing and set timers so that meals finish perfectly when ready. There is no need for guesswork as everything is done automatically through advanced, intuitive programming features in modern models.
The 10 Best Air Fryers in India in 2023
| | | | | |
| --- | --- | --- | --- | --- |
| Model | Watts (W) | Capacity (L) | Pros | Cons |
| Instant Pot Vortex Dual Basket | 1700W | 7.8L | Dual Basket-Digital touchscreen display | Slightly Expensive |
| Proscenic T31 | 1700W | 15L | 12 pre-programmed functions | Slightly Expensive |
| Hestia Appliances | 1800W | 12L | Wide Temperature Range-6-in-1 Cooking Functions | Bulky |
| AGARO Elite | 1700W | 14.5L | Rapid Air technology for even cooking-Auto shutoff for safety | Costly, Bulky |
| Havells Prolife Grande | 1700W | 6.5L | 10 Auto preset options to cook-LED display  | None |
| Inalsa Aero Crisp | 1500W | 12L | Dual functionality as air fryer and oven  | May Take longer to cook stuff |
| Instant Vortex Pot | 1500W | 6L | Smart 6-in-1 Functionality | Costly |
| INALSA Digital Fryer | 1400W | 4L | Air Crisp Technology | Missing Parts |
| Proscenic T22 | 1700W | 5L | 13 Pre-set-Shake alerts | No brand warranty |
| PHILIPS Digital | 1400W | 4.1L | Automatic shutoff feature-Dishwasher Proof | Compact |
1. Instant Pot Vortex 8QT Dual Basket Digital Air Fryer
The Instant Vortex Air Fryer 7.8L with ClearCook window is designed for Indian electrical power (230V-50Hz). The 8-in-1 functionality allows air frying, grilling, roasting, dehydrating, baking, reheating, sync cooking, and sync finishing. The large 7.8L inner cooking basket is perfect for families. The ClearCook window and internal light allow you to monitor cooking progress without opening the basket. Enjoy guilt-free food with 95% less oil using the EvenCrisp Technology.
The one-touch digital panel includes six cooking functions, air fry, broil, roast, dehydrate, reheat and bake, and allows you to set cooking time and temperature. The air fryer has a 1-year warranty and an easy-to-clean, non-stick, dishwasher-safe basket and tray. Download the Instant Brand Connect app (iOS & Android) to access 1900+ chef-curated recipes.
Pros:
8-quart large capacity
1700W strong heating element
Easy-to-use digital touchscreen display with preset cooking programs
Patented technology for precise cooking
Non-stick baskets for easy cleaning
The automatic safety shutoff feature
Dual basket design for cooking and dehydrating
Wide temperature range of 105-400°F
It comes with a free recipe book
Smart crisp technology for air frying, roasting, baking, reheating, dehydrating, and more.
Cons:
High costs may not be affordable for everyone.
2. Proscenic T31 Air Fryer, 15L
The T31 Air Fryer offers a large 15L capacity, providing up to 10 servings for an entire family, even for roasting a whole chicken. The fryer has 12 ready programs for easy cooking and allows for customization with a rotary knob for temperature and timer adjustments. Its TurboAir Technology reduces fat by 85% while preserving food's original taste with 360-degree air circulation.
The Proscenic app provides remote contr, access to over 30 free recipes and the ability to upload custom recipes. The T31's basket is made of stainless steel and has a non-stick Teflon coating free of harmful chemicals, making it easy to clean in the dishwasher.
Pros:
15L large capacity
Reduced fat cooking with TurboAir
12 pre-programmed functions for ease of use
App control and access to Italian recipes online
Safe materials and easy to clean
High-quality exterior coating
Durable construction
Cos:
3. Hestia Appliances 12L Air Fryer
The Hestia Air Fryer has six cooking functions: Air Fry, Grill, Roast, Reheat, Bake, and Dehydrate, allowing you to cook a wide range of meals in one machine. The machine also has ten presets for Indian cooking and a 12L capacity suitable for families of 6. The viewing window and internal light source make it easy to monitor your food, and Aero Smart Technology uses 95% less oil than deep frying.
Pros:
4.1L large capacity
Fast cooking with Rapid air technology and no oil needed
Precise timing and temperature control with digital display
Adjustable temperature range from 80℃ to 200℃
Built-in cooling to prevent overheating, which includes a mesh basket, steamer rack, baking tray, and cake basket
Cons:
Large and bulky, it may be difficult to store in small kitchens.
4. AGARO Elite Air Fryer 14.5L 1700W
The AGARO Elite Air Fryer 14.5L 1700W is a quality kitchen appliance designed for any chef's needs, beginner or experienced chef. It's a powerful device that offers many features, such as its ability to fry with less oil than traditional methods, an adjustable temperature range of 50-220 degrees Celsius, and a timer for up to 90 minutes.
Furthermore, it has 16 pre-programmed menu options, including Chicken, Defrost, Wings and more; 3 assist cooking functions; automatic shutoff; overheat protection; Drip Tray; Wire Rack; Mesh Basket; Rotisserie Fork & Handle for roasting whole poultry and other meats; Bake Pan & Skewers Rack for baking desserts and snacks; Mitts for handling hot food; plus a two-year warranty.
All these features make this air fryer an excellent choice for anyone looking to cook delicious meals with healthy results!
Pros:
Wide temperature range (80-200°C)
High-powered heating element (1700W)
Easy-to-clean, non-stick basket
Stylish, modern design
Digital touch screen with preset programs
Large capacity
Rapid Air technology for even cooking
It comes with a free recipe book
Auto shutoff for safety
Removable, dishwasher-safe cooking basket
Cons:
Higher price compared to other air fryers
It may be too big for some kitchens
5. Havells Prolife Grande Air Fryer 6.5L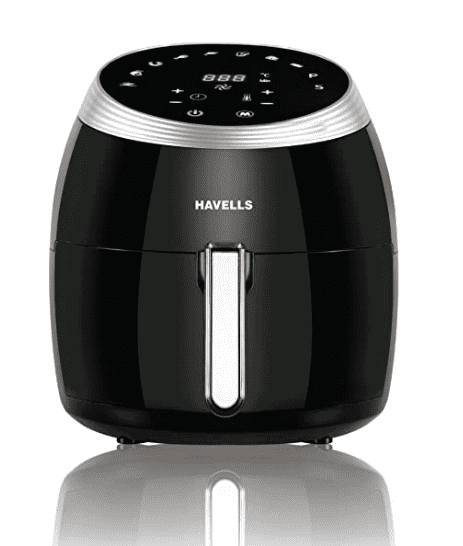 The digital touch control panel comes equipped with Aero Crisp Technology, all for 360-degree air circulation while cooking. It also has ten auto-preset options and a LED display that indicates when cooking time and temperature have been reached. The oven also has an auto-shutoff feature that turns off after 60 minutes for precise cooking.
The temperature can be controlled up to 200°C, and the stove has a 6.5-litre pan capacity and a 5-litre food basket capacity. The oven also has an overheating protection function and a safety lock, with a 2-year warranty and a power of 1700 watts. The operating voltage is 220-230 volts, and the package includes the main unit, a 6.5-litre pan, a 5-litre food basket, an instruction manual, and a recipe book. This oven is suitable for gifting on special occasions such as Diwali.
Pros:
Removable pot
Built-in timer
Large cooking capacity (6.5L)
Rapid-fire technology for quick cooking
Digital touch button control panel
Cons:
High cost, but offers adequate value
6. Inalsa Aero Crisp Air Fryer Oven 12L
Try the Aero Crisp Air Fryer for a healthier cooking oven. This innovative device uses hot air to replace deep frying in oil, meaning you get that delicious crispy taste without the high-calorie intake and oil overload.
The oven also boasts ten preset menus for precise temperature control and time settings, replacing a range of kitchen appliances such as fryers, ovens, microwaves, and sandwich makers, freeing up valuable storage space in your kitchen whilst making food up to three times faster than traditional non-convection ovens!
Taking comfort food with reduced fat has never been so easy – so enjoy having healthier meals prepared quickly and conveniently with the Aero Crisp Air Fryer Oven.
Pros:
2-year comprehensive warranty
Ten preset programs with preheat function
Dual functionality as air fryer and oven
User-friendly digital display
Reduces fat by up to 90%
Smoke-free and splatter-free cooking
Cons:
Cooking multiple dishes on different trays may take longer.
7. Instant Vortex Plus 6-in-1 Air Fryer 6L
The Instant Vortex Air Fryer is designed for use in India; it offers six smart functions: Air Fry, Grill, Roast, Dehydrate, Bake, and Reheat. With a 5.7 litre capacity, it's perfect for making meals for the whole family. This air fryer allows you to create various foods, including French fries, samosas, kabab/cutlets, chicken nuggets, corn cheese balls, banana chips, cakes/muffins, and more.
The EvenCrisp Technology means you can enjoy crunchy, tender food with 95% less oil. The digital touch panel allows you to choose from 6 cooking functions, set cooking time and temperature and includes a one-year warranty. The air fryer also features a food-grade stainless steel body and is easy to clean with a non-stick, dishwasher-safe basket and tray.
Pros:
Fast cleaning
Easy to store
Stylish design
Six cooking styles in one appliance
Better tasting food compared to 42 other air fryers
360° EvenCrisp Technology for even cooking
Durable with no performance sacrifice
Cons:
No official brand warranty available on Amazon
Higher cost but deemed worth it.
8. Inalsa Digital Nutri Fry Air Fryer 4L
The Air Fry Digital is an oil-free fryer that uses Air Crisp Technology to fry with little or no oil, resulting in healthier food with less than 99% fat and a crispy and tasty outcome. The patented rapid air crisp technology with a unique starfish design pan ensures evenly fried food without flipping. The fryer has eight preset programs for cooking a variety of items such as frozen potatoes, vegetables, chicken, meat, fish, and cakes, and it has a touch screen with eight presets and a keep warm function for easy use.
It also has a fully digital design with a touch screen for setting the time between 1 and 60 minutes and temperature between 80ºC and 200ºC, with a buzzer at the end of cooking, cold touch handle and non-slip feet. The fryer has a high capacity of 4 litres and 1400W power for fast and homogeneous cooking, making it suitable for gifting on occasions such as Diwali.
Pros:
Timer range from 1-60 minutes
Eight preset programs
Includes a recipe book
Easy to clean due to removable parts
Advanced Air System Technology
Non-stick coated pan
Cons:
Some users reported missing food separators.
9. Proscenic T22 Air Fryer 5L
The Proscenic T22 air fryer uses Turboair Technology for efficient cooking, reducing 90% of fats in foods. The 360° Steric Air Circulation heats food evenly, making cooking 30% more efficient while locking in nutrients and preventing moisture loss. It is easy to control and monitor cooking with the Proscenic APP, which also offers recipes and allows you to share your creations.
The T22 is also low-noise, with the Intelligent Super Denoise Technology reducing common noise by 20% to a low 48 dB level. The non-stick, dishwasher-safe basket is made from BPA and PFOA-free materials. The T22 has 13 cooking functions, including 11 one-touch presets for fries, chicken, steak, vegetables, fish, shrimp, pizza, bacon, onion rings, cake, and toast, and a custom function for preheating, presets, and keeping food warm.
Pros:
Quick and efficient cooking
User-friendly and compact design
Easy to clean
Compatible with Alexa and Google Assistant
13 presets and shake reminder
Cons:
No official brand warranty.
10. PHILIPS Digital Air Fryer 1400W 4.1L
The PHILIPS Digital Air Fryer (HD9252/90) is designed for healthy and tasty cooking with its patented Rapid Air technology and touch panel. With 90% less oil, it delivers the same crunch and tenderness as deep-frying.
The starfish design ensures even frying, and the digital touch panel has seven preset cooking functions, including a keep warm function. The free NutriU app offers 200+ recipes, including some from celebrity chef Ranveer Brar. The non-stick basket is dishwasher safe, making cleanup easy. Suitable for 2-4 servings, this air fryer is a must-have kitchen appliance with its two-year warranty.
Pros:
4.1-litre capacity
1400W heating element
Digital touchscreen display
Even cooking with Rapid Air technology
Easy to clean with a non-stick coated basket
Safe with automatic shutoff feature
Compact and stylish design
Convenient preset programs
Dishwasher-safe removable parts
Temperature range of 150-200 degrees Celsius
Cons:
Higher price compared to other models on the market.
How We Tested?
With so many choices available, narrowing down which will work best for your needs and budget can be difficult. To help make this easier, we have compiled a list oIndia'she top 10 air fryers based on our testing process. Here, we'll explore what factors we considered when putting together this list and why they're important when choosing an air fryer.
Factor 1: Price
Price was the primary factor we considered when making this list of the best air fryers in India. We feel that for most people, the price will be the most important factor when deciding which air fryer to buy. To find the best air fryers, we started by looking at all the air fryers available in India. We then narrowed our list by only considering air fryers that cost less than Rs. 25 000.
Factor 2: Features
Once we had gathered all of the air fryers that met our basic criteria, we evaluated them based on their features. We looked at capacity, whether or not they had a timer, adjustable temperature settings, and more. We also looked at how easy they were to use and clean. We compiled a list of the 10 best air fryers in India based on our research and testing. We consider the following factors when determining which air fryers cut:
Capacity
Timer
Adjustable temperature settings
Ease of use
Ease of cleaning
Factor 3: Brand reputation
We put a lot of emphasis on the brands we included in this list. We only wanted to recommend air fryers from brands with a good reputation. We looked at online reviews, social media chatter, and any other information we could find to get a sense of each brand's reputation. We also took into consideration the warranty that each brand offered. In the end, we only included brands that we felt confident would provide a good product and stand behind their air fryer.
Factor 4: Warranty/Guarantees
Warranty and guarantees are always tricky because it's hard to predict how long a product will last. However, in our opinion, it's worth looking for an air fryer with at least a one-year warranty. It will give you some peace of mind in case anything goes wrong with the product.
We also recommend checking the company's return policy before purchasing. This way, you can be sure that you can get a refund or replacement if you're unhappy with the product.
Factor 5: Safety Measures
When it comes to air fryers, safety is always a top priority. In our opinion, the best air fryers on the market come with multiple safety features. Some safety features we look for include auto shutoff, overheating protection, and a cool-touch exterior.
We also test each air fryer for safety before including it on our list. We do this by checking electrical safety, stability, and overall durability. By taking these extra steps, we can ensure that our list only includes the safest and most reliable air fryers on the market.
What Makes an Air Fryer So Unique?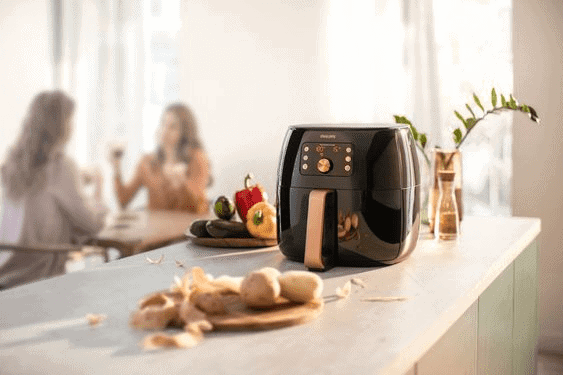 An air fryer is a unique kitchen appliance used for various cooking tasks. Unlike a traditional oven, an air fryer uses circulating hot air to cook food. It means food can be cooked faster and more evenly than in a conventional range.
Air fryers also tend to be more energy-efficient than ovens since they use less heat for cooking food. And since they don't require preheating, they can also save you time in the kitchen.
An air fryer is a great option if you're looking for a unique kitchen appliance to help you cook healthier meals faster.
What Are The Benefits Of An Air Fryer?
An air fryer is a revolutionary appliance that has made its mark in the cooking world. Whether you are looking to quickly prepare a meal or reduce your calorie intake, an air fryer can offer numerous benefits if you are looking to prepare a meal or facilitate your calorie intake problems quickly.
Healthier than Frying:
Deep-fried foods such as french fries, doughnuts and chicken wings taste delicious but come with tons of calories due to their oil content. An air fryer uses significantly less oil allowing for food preparation without all those fat and unhealthy calories found in traditional frying methods. It results in healthier meals without sacrificing flavour!
Versatility:
NAn air fryer allows for healthy deep-frying options for band backing, grilling, and roasting at much higher temperatures when compared to conventional ovens — giving home cooks many more recipe possibilities to consider!
Low Oil Usage:
One of the key benefits of air frying is its reduced consumption of oil when compared with conventional deep-frying. Many foods cooked in an air fry can be made using significantly less oil than those cooked traditionally, which means they have fewer calories – perfect if you're looking to reduce fat intake while preserving taste!
Faster Cooking Times:
Another great benefit of these appliances is convenience; they can prepare ingredients quickly compared to other cooking methods, such as oven baking or stovetop frying. This way, you can save precious time on meal prep without sacrificing quality or taste!
Easy CleanupCleanup:
Most major brands have removable parts that make cleaning up after easy, including pans, baskets and racks—allowing one to fit right into your kitchen drawers, thereby saving counter space.
Furthermore, these devices use little oils and grease, thus creating lighter messes. You can easily handle them with damp towels, cloths, rags, steam mops and other tools.
Odour Control & Smoke Reduction:
Air fryers have many benefits that make them a great appliance to have in the kitchen. One of the main benefits is the control they give you over the frying process. With an air fryer, you can set the temperature and cooking time to ensure your food is cooked the way you want. This control also helps to reduce smoke and odour from the fryer, so it's more pleasant to use in your kitchen.
Ease of Use:
Additionally, owners testify how user-friendly these machines are, often equipped with basic settings like temperature control enabling a complete hands-free automatic cooking experience, leaving no mess afterwards.
It is a huge advantage, especially for busy people who wish for quick but enjoyable culinary results following return home after a long day of work
Environmentally Friendly:
This device vastly reduces the chances of spontaneous fires by utilizing technology and a hot, dry air distribution combination. Another way an air fryer shines is through its energy efficiency.
A conventional oven can use anywhere from 3,000 to 10,000 watts per hour. To cook the same food in an air fryer uses only about 1,500 watts. It means that not only do you save money on your energy bill, but you are also reducing your carbon footprint.
You can cook your food in the air fryer and keep your cool. In addition, air fryers generate less heat than conventional ovens. It means you won't have to turn on your oven and heat your whole house in the summer.
Budget-friendly Price Tag:
Most units also come with very reasonable price tags, making them accessible options even within tighter budgets. Such investments may feel unnecessary during the purchasing stage; however, savings generated through monthly energy bills should cover costs rather quickly. Plus, ongoing maintenance of air fryers remains relatively stress-free, given low demands regarding general upkeep. This device requires minimal effort overall, which provides owners plenty of room to schedule more exciting activities!
The Cons of Air Fryers
Here, we will examine the six key cons of air fryers so you can decide if one is right for your kitchen.
Unsuitable For Large Quantities: The capacity of most air fryer models puts them at an advantage when preparing smaller meals, but this also means they aren't suitable for larger quantities or families who wish to cook more than 1-2 servings at once. So while they're great if you want dinner for two or snacks on movie night, prepare multiple batches if feeding bigger groups and individuals beyond four.
High Price Tag: Despite their convenience and speediness in producing results without oil splattering everywhere, air fryers do come with quite the price tag attached; higher upfront costs relative to traditional ovens mean spending considerably more money initially – Although some cheaper alternatives exist too nowadays!
Still Uses Oil: Though significantly reduced compared to deep-frying standards, most recipes still require some quantities of oil during preparation – making any health benefits thought possible somehow nullified by addition alone. In other words, it's not 'oil-free.'
Not Suited To All Cooking Methods: While excellent choices for fried food such as onion rings or chips without the added calories from excess fat content associated with frying them traditionally, other forms of cooking methods are still better left done by oven – like baking cakes/brownies which won't happen similarly satisfactorily through any kind model currently available given limited space & temperature range capabilities within each unit compared against full-sized conventional ones found in every home now these days.
Limited Models Available: When deciding whether or not to buy an air fryer, one of the things you may want to consider is the selection of available models. While there are a growing number of air fryers on the market, the choice is still quite limited compared to other kitchen appliances. Finding an air fryer that meets your specific needs can make it difficult.
Health Risks: One potential concern with air fryers is the potential for the development of acrylamides. Acrylamides are chemical compounds that can form when starchy foods are cooked at high temperatures. They have been linked to an increased risk of cancer in laboratory animals and may concern human health. However, it is important to note that the link between acrylamides and human cancer is not yet fully understood, and more research is needed. It is recommended to cook food at a moderate temperature, not to overcook it, and to avoid burning or charring the food to minimize the formation of acrylamides. Additionally, choosing various cooking methods and incorporating raw and lightly cooked fruits and vegetables into your diet can also help reduce your overall exposure to acrylamides.
Do You Need an Air Fryer in India?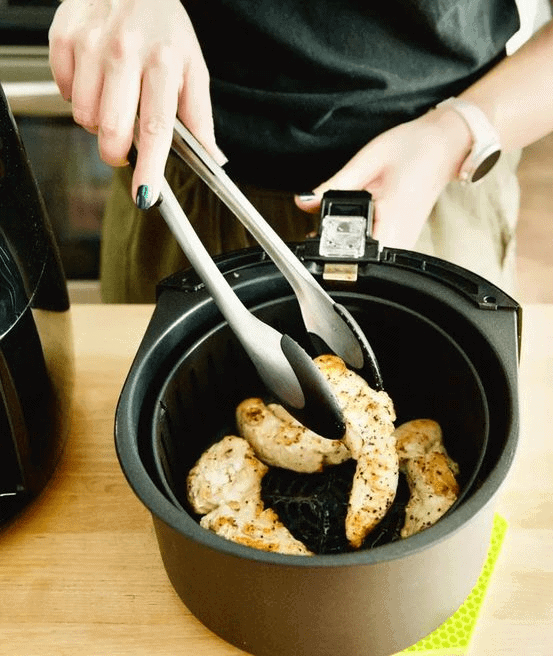 Air fryers have become increasingly popular as consumers' health and wellness remain top of mind worldwide. An air fryer is a kitchen appliance that uses hot air to cook food. Food can be cooked with little or no oil, making it a healthier option than deep frying.
So, do you need an air fryer in India? The answer may surprise you. While air fryers are unnecessary, they can be a valuable addition to your kitchen if you enjoy fried foods but are looking for a healthier option. Air fryers are also relatively inexpensive, so they are a great option for budget-minded consumers.
If you are interested in purchasing an air fryer, be sure to do your research to find the best option for your needs.
What Kind Of Foods Can You Cook In an Air Fryer?
Air fryers are one of the hottest kitchen appliances on the market. And for a good reason! They're a healthier alternative to deep frying and can be used to cook various foods.
So what kind of foods can you cook in an air fryer? Here are seven types of foods that are perfect for air frying:
French fries
Chicken wings
Chicken nuggets
Veggies
Mozzarella sticks
Potato chips
Cookies
Can I use Oil In An Air Fryer?
Yes, you can use oil in an air fryer. Using a small amount of oil can help to enhance the flavour and texture of the food being cooked. However, the key advantage of an air fryer is that it allows you to cook food with significantly less oil than traditional deep frying methods, resulting in healthier meals. To use oil in an air fryer, spray or brush a thin layer onto the food before cooking, or toss the food with a small amount of oil in a bowl before placing it in the air fryer basket.
When cooking with an air fryer, it's best to use oils with a high smoke point, as this helps prevent the oil from burning during cooking. Some of the most commonly used oils in an air fryer include
Canola Oil: This neutral-tasting oil has a high smoke point, making it an ideal air fryer. It's also low in saturated fat, making it a healthier option than other oils.
Avocado Oil: Avocado oil is high in monounsaturated fatty acids and has a smoke point of about 520°F, making it a good choice for air frying. It also has a mild, nutty flavour that can add a delicious taste to your food.
Peanut Oil: Peanut oil has a high smoke point and a neutral flavour, making it a popular choice for air frying. It's also high in monounsaturated and polyunsaturated fats, making it a healthy option.
Olive Oil: Olive oil has a low smoke point, so it's not the best choice for high-heat cooking methods like air frying. However, some people use it in small amounts in an air fryer, imparting a rich, fruity flavour to food.
Vegetable Oil: Vegetable oil is a blend of different oils with a high smoke point, making it a good choice for air frying. It has a neutral flavour so that it won't overpower the taste of your food.
It's important to note that the oil you use depends on your preferences and the food you're cooking. When using oil in an air fryer, use only a small amount to keep your meals healthy.
Air Fryers: Who Should Use Them?
Health-conscious Individuals: Air fryers are a great option for people looking to reduce the amount of fat and calories in their diet. As air fryers cook food using hot air instead of oil, they can significantly reduce the amount of fat and calories in the food compared to deep-frying. A study found that air-fried foods had about 80% less fat than deep-fried foods.
Busy Individuals: Air fryers are convenient and time-saving for active individuals who don't have the time to cook using traditional methods. They can cook food quickly and with minimal preparation, making them a great option for busy people looking for a fast and easy way to prepare meals.
Small Families: Air fryers are a great option for small families or individuals who live alone. They typically come in smaller sizes, which makes them a great choice for those who don't need to cook large quantities of food. Additionally, air fryers are easy to clean and maintain, making them a great option for those who don't want to spend a lot of time cleaning up after cooking.
People with Limited Kitchen Space: Air fryers are a great option for people with limited kitchen space, as they are typically compact and easy to store. It makes them a great choice for those who live in small apartments or have limited storage space in their kitchens.
People with a Love for Crispy and Crunchy Foods: Air fryers are a great option for people who love crispy and crunchy foods. As they cook using hot air, they can produce foods with a crispy exterior and tender interior, making them a great option for those who love deep-fried foods but want to reduce the amount of fat and calories in their diet.
What to Look for When Buying an Air Fryer?
Several factors must be considered when buying an air fryer to ensure you get the best model for your needs. These include
Capacity: The capacity of an air fryer is important to consider because it affects how much food you can cook at once. Choose an air fryer with the appropriate accommodation for your needs, whether you're cooking for one or two people or a family.
Cooking Functions: Some air fryers offer multiple cooking functions, such as roasting, baking, and grilling, in addition to air frying. It can be useful if you want to use your air fryer for more than just frying or if you want to be able to cook different types of food in the same appliance.
Temperature Control: The ability to control the temperature is important for achieving consistent cooking results. Choose an air fryer that allows you to set the temperature in increments of 5°F or less and has a temperature range that covers the temperatures you need for your cooking.
Ease of Use: Look for an air fryer that is easy to operate and clean. Consider features such as a clear and simple control panel and removable dishwasher-safe parts. A user-friendly air fryer will make cooking and cleaning up easier and more enjoyable.
Size and Design: The size and design of an air fryer are important to consider because they affect where you can store the appliance and how much counter space it takes up. Choose an air fryer that fits your kitchen and storage spaces and has a design you like.
Price: Air fryers come at different prices, from budget models to high-end models with advanced features. Consider your budget and choose an air fryer that provides good value for your money.
Brand Reputation: Consider the brand's reputation when choosing an air fryer. Look for a brand with a good reputation for quality and customer service, and check customer reviews and ratings to see what other people have to say about the model you're interested in. A well-regarded brand can provide peace of mind and a good customer support experience.
Considering these factors, you can choose an air fryer that easily meets your needs and helps you cook a delicious, healthy meal.
Concerns and Misconceptions About Air Fryers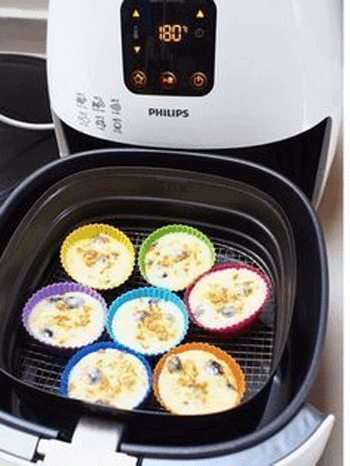 List of Concerns:
Do Air Fryers Emit Emfs?
False. EMFs are a type of non-ionizing radiation that is produced by electrical and electronic devices. Air fryers do not emit high EMF levels (electromagnetic fields) that risk human health.
While some sources of EMFs, such as power lines and cell phone towers, have been linked to potential health risks, the EMFs emitted by small household appliances like air fryers are typically very low and considered safe by health experts.
There is no evidence to suggest that using an air fryer poses a significant risk to human health regarding EMF exposure.
Do Air Fryers Emit Heat Waves?
True. Air fryers emit heat from hot air that circulates the food being cooked. A heating element and fan generate this hot air within the air fryer, which helps to cook the food evenly and quickly. The heat generated by an air fryer can be significant, especially in smaller kitchens where there may not be good ventilation. It can cause the kitchen to become hot and stuffy and raise the temperature in the surrounding rooms.
In order to mitigate this, it is important to use an air fryer in a well-ventilated area and to keep the door or windows open if possible. You may also want to consider purchasing an air fryer with an automatic shutoff function, which can help prevent the appliance from overheating and emitting excessive heat.
Is Air-Frying Healthier Than Deep-Frying?
True. Air-frying can be a healthier alternative to deep-frying for several reasons. Deep-fried food is submerged in hot oil, which can cause it to absorb large amounts of fat and calories. In contrast, air-frying uses hot air to cook food, resulting in a significantly lower fat and calorie content than deep-fried foods.
Additionally, air-frying can also help to reduce the formation of harmful compounds like acrylamides, which can form when starchy foods are cooked at high temperatures. However, it is important to remember that while air-frying may be a healthier option than deep-frying, it is still a form of high-heat cooking, and the food being cooked may still contain a significant amount of fat and calories, depending on the ingredients being used.
In order to achieve the maximum health benefits, it is recommended to use an air fryer in conjunction with other healthy cooking methods, such as grilling or roasting, and to consume a balanced diet that includes a variety of fresh fruits and vegetables.
Do Air Fryers Come With Manual Rotation?
False. Most air fryers do not come with a manual rotation feature. Air fryers typically use a fan to circulate hot air around the cooked food, which helps to cook the food evenly and quickly. The food is placed in a basket or tray and inserted into the air fryer. The air fryer has a timer and temperature control that allows you to set your food's cooking time and temperature.
Regardless of the specific model, air fryers are generally very easy to use and do not require manual rotation for successful cooking results. Some high-end models may come with a manual rotation feature, allowing you to manually turn the food in the basket during cooking. However, this is not a standard feature on most air fryers and is more likely to be found on higher-end models targeted to more advanced users.
Do Air Fryers Come With Self-Rotating and Stirrer?
True. Some air fryers have a self-rotating and stirring feature, automatically rotating the food in the basket during cooking. It helps to cook the food evenly and reduces the need for manual intervention during cooking. This feature can be especially useful for cooking foods prone to burning or sticking, as it helps ensure that all sides of the food are exposed to the hot air and cooked evenly.
However, not all air fryers come with this feature, and it is more likely to be found on higher-end models targeted to more advanced users. Suppose self-rotating and stirring are important to you. In that case, it is a good idea to look for air fryers that specifically mention this feature in their product descriptions or to read reviews from other users to see if this is a feature that they find useful.
List of Misconceptions:
Air Fryers Can Replace All Cooking Methods: Air fryers are versatile appliances that cannot replace all cooking methods. They are best suited for air frying, baking, and roasting but not suitable for slow cooking or pressure cooking.
Air Fryers Cook Faster Than Conventional Ovens: Air fryers can cook food quickly, but they may not always cook faster than conventional ovens. The cooking time can depend on the type of food, the portion size, and the temperature.
Air Fryers Produce Healthier Fried Foods: Air frying can be a healthier alternative to deep frying. Even when air-fried, Fried foods can still be high in calories, fat, and sodium. However, choosing more healthy options and monitoring portion sizes when cooking with an air fryer is still important.
Air Fryers Do Not Require Any Oil: Air fryers can cook food without oil, but adding a small amount of oil can enhance the flavour and crispiness of the food. For better health benefits, consider using a healthier oil option, such as avocado oil or olive oil.
Air Fryers are Mess-Free: Air fryers can reduce the mess associated with deep frying, but they can still create horror and splatter during cooking. Consider using a splatter guard or covering the basket with parchment paper to minimize mess.
Also Read
The Bottom Line
As you can see, there are a lot of great air fryers on the market in India. If you have any questions about which one is right for you, leave them in the comments and we will be happy to help you out.
Frequently Asked Questions
What is an air fryer?
An air fryer is a kitchen appliance that uses hot air to cook food. The hot air circulates the food to cook it evenly and quickly, creating a crispy exterior similar to fried food.
How does an air fryer work?
An air fryer works by heating a heating element, usually a heating coil or heating fan, which then circulates hot air around the food in the fryer basket. The hot air creates a crispy exterior and cooks the food evenly.
What can you cook in an air fryer?
An air fryer can cook various foods, including fried foods like chicken wings, fish and chips, and french fries, as well as roasted foods like vegetables and meats. To know more, please refer to the post mentioned above.
Is cooking with an air fryer healthier than cooking with a deep fryer?
Air frying is generally considered healthier than deep frying because it uses less oil and still creates a crispy exterior on food. However, it is still important to monitor portion sizes and to choose healthier options when cooking with an air fryer. To know more, please refer to the post mentioned above.