As the scorching summer heat sets in, a reliable cooling solution becomes paramount. Air coolers have emerged as a popular choice, offering an effective and affordable way to beat rising temperatures. If you're in the market for an air cooler in India, it's important to understand the different types available and their unique features. This guide will explore and compare three popular air cooler types: the Desert Cooler, the Room Cooler, and the Tower Cooler. By delving into their distinct characteristics, you can make an informed decision when choosing the ideal air cooler for your needs. So, let's dive into the world of air coolers and discover each type's key differences and benefits.
What is a Desert Air Cooler?
Desert air coolers, or evaporative coolers, are ideal for Indian homes and businesses looking to enjoy reliable cooling capabilities. These efficient systems work through a straightforward yet highly effective concept: lowering hot air temperature by passing it over water surfaces—similar to how the human body cools itself through perspiration. To do their job properly, the fans in these units draw in warm outdoor air and send it through a wet media, which then passes cooled air into the space. Proper ventilation is key in maintaining healthy airflow, ensuring that all occupants feel comfortable.
Apart from providing superior cooling capabilities, desert air coolers offer several other benefits. They consume less electricity than traditional air conditioners, making them cost-effective and energy-efficient. Additionally, since these units require minimal maintenance, they have an eco-friendly environmental impact with no noisy operation or dangerous chemical emissions like standard cooling systems.
Evaluating a few essential factors is essential before investing in a desert air cooler. Notably, these coolers demand more space than others and utilise vast amounts of water and electricity to work properly. This can be a major concern for those living in areas already facing power and water shortages during the summertime. As such, it is crucial to have access to these two resources before investing in desert air cooling technology.
Features Desert Air Cooler
Now, let's explore the features and functionality of a desert air cooler. Here are some key characteristics commonly found in these coolers:
Installed outside a window for drawing in outside air
Operates by evaporating water for effective cooling
Provides better cooling performance compared to other coolers
Consumes less electricity than air conditioners
Larger water tank capacity, usually 75-85 litres
Power consumption of around 200 watts
Three-speed settings for customizable cooling
Powerful fan for efficient air circulation
Strong and durable motor for long-lasting performance
4-way deflection system for comprehensive cooling coverage
Honeycomb cooling pads that absorb dust from the outside air
It can be connected to an inverter for uninterrupted operation
Auto-fill feature for automatic water filling via a hose pipe
Water level indicator for easy monitoring and refilling
Which Desert Air Cooler to Buy
Bajaj DMH 90 Neo 90L Desert Air Cooler
Candes Creta 60 Ltr Desert Air Cooler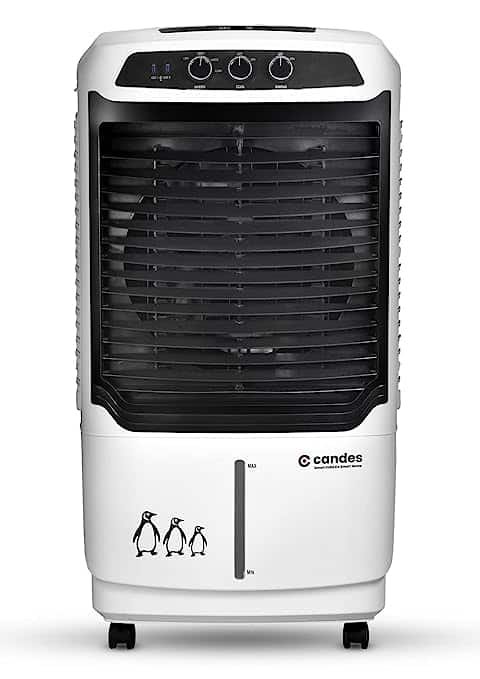 Novamax Rambo Jr 75 L Desert Air Cooler
What is a Room Air Cooler?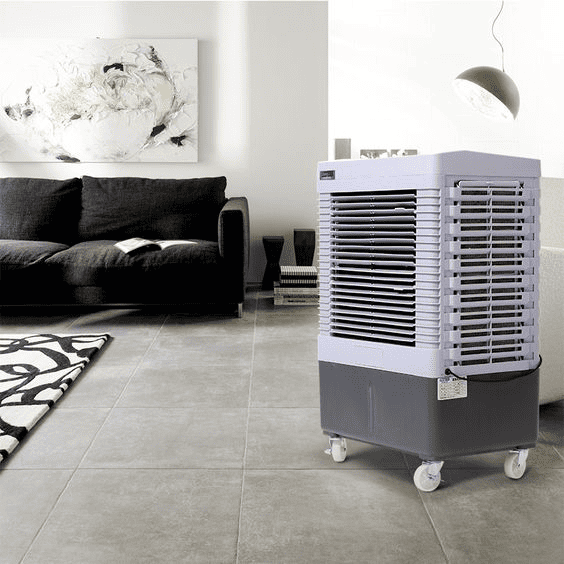 As the name suggests, a room air cooler is designed to cool a specific room or area. It is less powerful than a desert cooler, so it may take some time before you experience the desired cooling effect. However, it offers several advantages. Unlike a desert cooler, a room cooler requires no installation or fitting. It can be easily placed anywhere in the room, offering convenience and portability. Some room coolers come with wheel trolleys, allowing you to move them around your Indian house according to your comfort. The cooling in a room air cooler is achieved by the fan or blower forcefully circulating the air inside the room.
A room cooler could be the perfect choice with its compact size, easy portability, and cost-effectiveness. A room air cooler is particularly well-suited for small Indian homes with limited space. Additionally, in regions with moderate summer heat, a room cooler is sufficient to meet your cooling needs. It is worth noting that room air coolers are affordable, with options starting as low as 10,000, making them an ideal choice for middle-class households in India.
Features of Room Air Cooler
Now, let's delve into the features and functionality of a room air cooler. Here are some key characteristics commonly found in these coolers:
Room air coolers typically have a water tank capacity of up to 23 litres for continuous cooling.
These coolers consume around 140 watts of power, balancing efficient cooling and energy efficiency.
They can effectively cool an area of up to 150 square feet, suitable for bedrooms, living rooms, and dining areas.
Room air coolers offer three-speed settings for customizable cooling intensity.
Their compact size allows for placement anywhere in the house, providing personalised cooling.
The honeycomb cooling pads in these coolers efficiently absorb water and provide effective cooling.
Some room coolers have an in-built humidity controller for adjusting humidity levels.
Many room air coolers feature an ice chamber to enhance cooling during hot weather.
Automatic water level indicators keep track of the tank's water level for convenient operation.
Room coolers are portable with castor wheels for easy movement and cooling in different areas.
They can run on inverters, ensuring uninterrupted cooling during power outages.
Drain plugs facilitate easy cleaning and prevent stagnant water accumulation.
Built-in overflow features prevent water leakage and maintain optimal performance.
Room coolers distribute cool air in multiple directions with 4-way air deflection.
Some models can effectively cool an area of up to 10 metres, suitable for compact spaces.
Which Room Air Cooler to Buy
Bajaj PX 97 Torque New 36L Personal Air Cooler
Crompton Ginie Neo Personal (Small) Air Cooler
Symphony Ice Cube 27 Personal Air Cooler
What is a Tower Air Cooler?
When it comes to cooling solutions, tower air coolers have gained popularity for their unique design and efficient cooling capabilities. As the name suggests, a tower air cooler is specifically designed to be tall, thin, and compact. This allows it to provide cooling even in corners where traditional air coolers may struggle to reach. The sleek and slender design of tower coolers makes them ideal for small spaces, where they can be conveniently placed without occupying much floor space.
Portability is one of the key advantages of tower air coolers. Equipped with wheels, these coolers easily slide around and transport from room to room. This feature lets you enjoy cooling wherever you go, making them a versatile cooling solution.
Features of Tower Air Cooler
Now let's delve into the features and functionality of a tower air cooler. Here are some key characteristics commonly found in these coolers:
Tall, thin, and compact design
Portable with wheels for easy mobility
Suitable for small spaces
Water tank capacity of up to 30 litres
Power consumption for cooling: around 155 watts
Cooling area coverage: approximately 200 square feet
Three-speed settings for customised cooling
Facilitates cross ventilation in the room
Extended tank refill interval (approximately 9 hours)
Equipped with four castor wheels for easy movement
Honeycomb cooling pads for efficient water absorption
Blower fan for effective air circulation
4-way air deflection for wide distribution of cool air
Ice chamber for extra-cool effect
Auto louvre movement for oscillating airflow
Auto water level indicator for optimal operation
In-built dust filter for clean air circulation
In-built mosquito net to prevent mosquito breeding
Drain hole for preventing water overflow
Suitable for indoor use, such as bedrooms, living rooms, and offices.
Which Tower Air Cooler to Buy
V-Guard Arido T50 H Air Cooler
Symphony Diet 12T Personal Tower Air Cooler
IBELL High-Speed Tower Fan Air Cooler
Also Read
Final Thoughts
When comparing desert coolers, room coolers, and tower coolers, it's important to consider each type's key features and benefits. Desert coolers are known for their powerful cooling effects and are ideal for larger spaces or areas with hot and dry climates. On the other hand, room coolers and tower coolers are well-suited for homes with limited space and shorter cooling durations. Factors such as room size, climate, and personal preferences should be considered when deciding. A desert cooler may be the best choice if you require efficient cooling for extended periods. However, room and tower coolers are excellent options if you have space constraints or prefer portable cooling. Ultimately, choose the air cooler that suits your specific needs and enjoy a comfortable and cool summer season ahead. If you have any further questions feel free to leave us a comment we will get to you asap.
FAQs
Which type of air cooler is more suitable for a hot and dry climate?
A desert cooler is more suitable for a hot and dry climate due to its powerful cooling effects and ability to handle higher temperatures. To know more, refer to the post above.
Can I use a room cooler or tower cooler in a larger space?
Room coolers and tower coolers are better suited for smaller to medium-sized spaces. A desert cooler may be a more effective choice if you have a larger area to cool.
Are tower coolers more portable than desert coolers?
Yes, tower coolers are designed to be portable and often come with wheels, making them easier to move around compared to desert coolers, which are typically larger and less mobile. To know more, refer to the post above.
Are there any specific advantages of using a room cooler over other types?
Room coolers are compact, energy-efficient, and suitable for shorter cooling durations. They are ideal for small spaces and provide quick relief from the heat with noticeable temperature changes in just a short usage period. To know more, refer to the post above.