There is a seemingly infinite number of options when it comes to selecting exterior paint colors for your house in India. It's tempting to choose a color scheme at random, but specific color schemes are more visually pleasing than others by experts. In this post, we will discuss the top eight color schemes for painting the outside of your home.
What are the best exterior color combinations for the outside walls of the house?
Gone are the days when exterior paint of the house wasn't paid any attention. There was a time when people would invest their resources to make the interiors beautiful while choosing just any color for painting the outside wall of the house. But not anymore. The exteriors of the house are as important as the interiors. Careful planning goes into choosing the paint colours for painting the exterior walls of the house. There are various Asian Paints exterior colour combinations that you may choose from. Let's see what are the outer paint colors for Indian house exterior walls:
Light Brown + Yellow + Black
Ivory + White + Navy Blue
Canary Yellow + White + Blue
Black + White + Ruby Red
Taupe + Beige + Brown + Grey
Prairie Brown + Gray + Yellow
Cool Green + Butter Yellow + Pure White
Red + Cream + Coffee Brown
1. Light Brown + Yellow + Black
You can't go wrong with yellow, brown, and black if you're searching for a timeless colour code combination. And yes, the black window fixtures are also included in the color scheme.
Any house style—traditional or contemporary—can benefit from this color scheme. And it's simple to change the colors to get the exact appearance you want. For a sunny and cheery appearance, for instance, you may use a brighter yellow and softer white. Or, go with deep brown and a deep black for a more elegant appearance. You can also add some outdoor plants to compliment the tropical palette. This is a common wall exterior paints combination when you look for Indian house painting images outside on the internet.
Building colour selection and no matter how you decide to combine and contrast the hues, your Indian house exterior will undoubtedly end up looking stunning and classic.
2. Ivory + White + Navy Blue
The Ivory + White + Navyblue color combination is a popular choice for painting the exterior of a house.
This house colours combination can give your home a fresh and breezy look. Trust us, this combination will elevate your house without breaking a bank!
White is a timeless option that will never go out of style, while ivory is a light cream color that can give brightness to any room. Whereas Navy blue is a cool, tranquil color that can lend a touch of sophistication to your home.
When painting the outside of your home, paying attention to the details of the trim and accents is essential. It's all in the details, my friend. We suggest going with a white border for this color scheme since it looks well with both colors. Navyblue will hold better against environmental factors than the other two colors for house colour outside.
Or you could use the shade of blue to provide a splash of color as an accent and use either white or ivory as the primary color.
3. Canary Yellow + White + Blue
Canary yellow, white, and blue are beautiful exterior paint combinations for Indian houses. This cheerful and vibrant palette will add curb appeal and make your house stand out from the rest. These are perfect when choosing the outside colour of Indian simple house.
Canary yellow is an excellent choice for the primary color of your house. It's eye-catching and instantly makes your home look brighter and more inviting—pair canary yellow with white trim for a classic look.
Blue is a beautiful accent color, so if you want to add a burst of color, try blue. Who could ever forget the movie Notting Hill's most memorable prop, the blue front door?
The color blue accentuates the color yellow, as well as the color white, and it will provide an air of sophistication to your home. However, we suggest using blue in moderation since an excessive amount of it might give the impression that your home is gloomy. This is a beautiful house color combination.
4. Black + White + Ruby Red
Your home is your castle, and your house exterior should reflect that! A black and white color scheme with a pop of ruby is the perfect way to give your home a regal look. Plus, it's a great way to show off your personality and style. These are some gorgeous wall paints for exteriors.
Are you a statement maker when it comes to using the latest home colour outside? If so, then this color scheme is perfect for you. The Black and white theme is evergreen and ever classy. And ruby is the perfect accent color to give your home a touch of luxury. If you want your house to stand out, this is your ideal color scheme!
Pro Tip: Use dark wood doors, windows, and other fixtures to make your home appear like a million bucks.
5. Taupe + Beige + Brown + Grey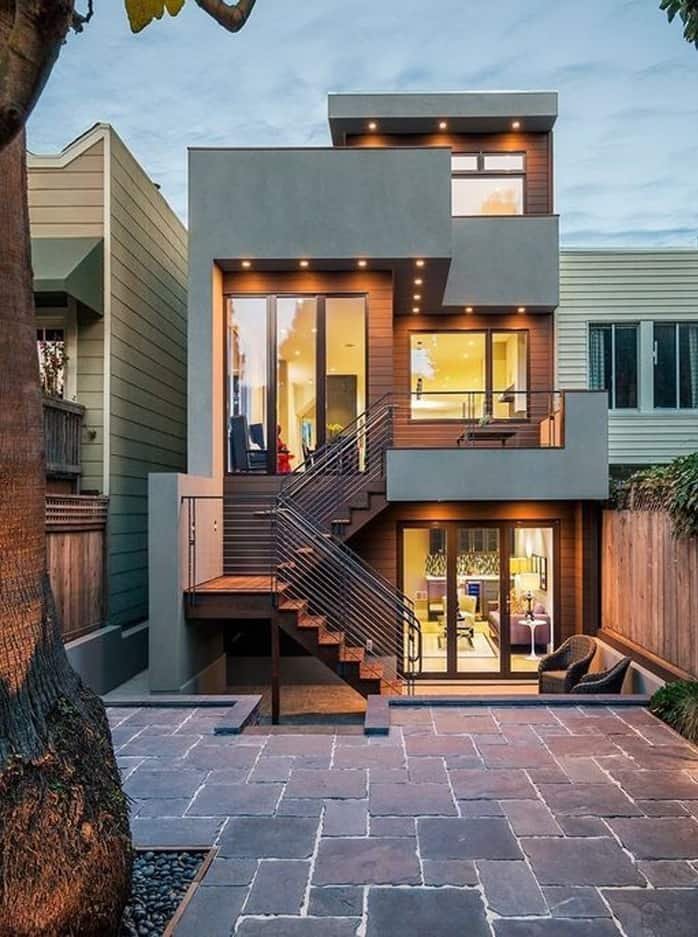 A refuge from the outside world, your home sweet home is a place where you can relax, decompress, and just be yourself. So your home must reflect your unique personality and style.
If you're looking for ideas to make your house homier, you can't go wrong with a taupe, beige, brown, and grey color scheme.
This house paint colour scheme is natural and calming while maintaining excellent and contemporary air. It is ideal for anybody who wishes for their house to exude an air of friendliness and comfort. In addition, it is simple to create a style that is uniquely yours by combining various hues of brown, beige, taupe, and grey in multiple combinations.
If you're thinking about giving your house a mini-makeover, this warm and earthy color scheme is one good place to start.
6. Prairie Brown + Gray + Yellow
Adding a touch of color to your home's exterior is a great way to liven up the space and make it your own. And there's no better color combo than prairie brown, gray, and yellow. This chill and inviting color scheme is perfect for any home style in India, from cottage to a ranch to contemporary.
This combination works well for the house exterior that strives to maintain a simple and uncluttered appearance. Gray siding, brown trim, and yellow accents are all you need to carry off this style successfully.
You may also build character by combining contrasting textures, such as utilizing gray stone for the facade and brown shingles for the roof.
7. Cool Green + Butter Yellow + Pure White
More often than not, people's initial impressions of your home will be formed by its exterior. You want it to be beautiful, but you also want it to be original. Choosing a color scheme that is not only eye-catching but also distinct is one method to accomplish this goal.
One such color scheme is cool green + butter-yellow + pure white. The cool green hue will give your home a modern look, while the butter-yellow will add a touch of warmth. The white trim will help to keep the overall look clean and polished. This combination is fresh and trendy, and it will definitely make your house stand out.
8. Red + Cream + Coffee Brown
For a chic and sophisticated look with a hint of edginess, try a red, cream, and coffee brown color scheme for your home's exterior.
Using this color palette, you could make your house feel cozy and welcoming. The red color is daring and will give your property more allure and add to the curb appeal of the Indian homes. The cream is a neutral color, so it will help preserve the overall harmony when used with red. Furthermore, coffee brown will give depth and richness to your house since it is a rich and warm color. This is a popular outside building colour combination.
Consider using this red + cream + coffee-brown color scheme if you're thinking about painting your home as it can give your home the perfect amount of pizzazz without overwhelming your house exterior.
To wrap it up
When painting the outside of your house, it is essential to choose a color scheme that is not only visually beautiful but also works in harmony with the structure of your home. Through this post, you should have a firm grasp of the finest color choices for painting your home exterior. These color choices might help give your house a one-of-a-kind and fashionable appearance.
Let us know which color combination most influenced you. Or feel free to leave a comment if you have a special color scheme of your own.
You can also look at our other posts if you're searching for further inspiration for home design and decoration.