Traditional methods of cleaning can make your home look dust-free. But does it keep your home clean and disease-free?
A study named 'Indian Household Dust Study' conducted by two brands, Dyson and FRAC, found dust mites, pollens, molds, and many harmful allergens in an average Indian household even though they were cleaned with traditional methods.
These microparticles might be invisible to naked eyes, but they can cause severe allergic reactions, asthma, and respiratory illness. Since we have started to live indoors more, it's time to get a vacuum cleaner for our homes.
Canister, upright, stick, robot, handheld vacuum cleaners come in all shapes and sizes, which can be overwhelming for first-time buyers. What's right for a large house with multiple floors might not work for a room mostly covered in carpets.
To help you narrow down your choices, we will take you through a detailed vacuum cleaner buying guide covering all the factors regarding how to choose a vacuum cleaner ideal for your home.
What are the different types of vacuum cleaners?
The critical factors of a vacuum cleaner buying guide start with recognizing the different types and knowing about their uses, advantages, and drawbacks.
Currently, there are six types of vacuum cleaners. Which are-
Canister
Upright
Stick
Multipurpose
Robot
Handheld
Canister Vacuum Cleaners
Canister vacuum cleaners are the most common type of vacuum cleaners in India.
They are close to being called all-purpose vacuum cleaners. They are great at cleaning bare floors, stairs, under furniture, drapes, and upholstery (i.e., soft cloth covers like sofa, cushions, etc.). They come with several attachments and are bulky. But they have wheels, so they need to be dragged out throughout the home.
They consist of a cylindrical body attached with an extended nozzle and a storage bag. The extended nozzle is excellent at cleaning staircases, car seats, interior underneath the furniture; some can effectively clean carpets.
Average cost: 5000 onwards
Average weight: 5 to 8 kgs
Pros:
Quieter operations as compared to upright vacuum cleaners
Versatile in nature but ideal for cleaning bare floors and staircases
The extended wand quickly reaches tricky corners
The attached wheels make it easy to move
Cons:
Bulky design makes it difficult to store
You need to bend over while cleaning
Extended wands and cords get tangled
Upright Vacuum Cleaners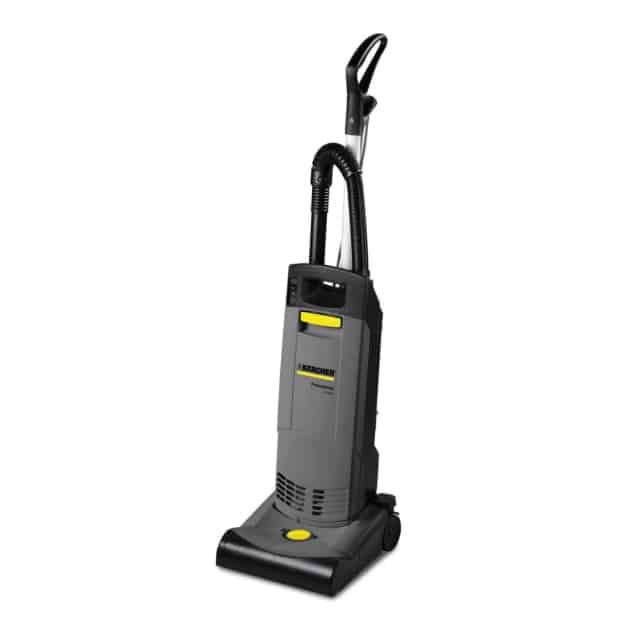 Upright vacuum cleaners are slowly making their way into Indian homes. They are the best vacuum cleaner suited for homes with more carpet area or larger floor space because their design ensures wider area cleaning in a single swatch.
They stand in an upright position, thus named so, and have a foot lever to press to change direction. These might be easier to store as the design is more compact, but they are not great at reaching under the furniture or cleaning upholstery.
However, a few models come with accessories like an extended wand to clean the corners and stairs. A few of them also have the option to transit between carpet and hard floors.
Average cost: 7000 onwards
Average weight: 5 to 6 kgs
Pros:
Easier to store
Cheaper compared to canisters
It cuts down on cleaning time
Stands upright, so you don't need to bend over
Cons:
They are pretty heavy, and without wheels, it might be difficult to move
Makes more noise as compared to canisters
Stick Vacuum Cleaners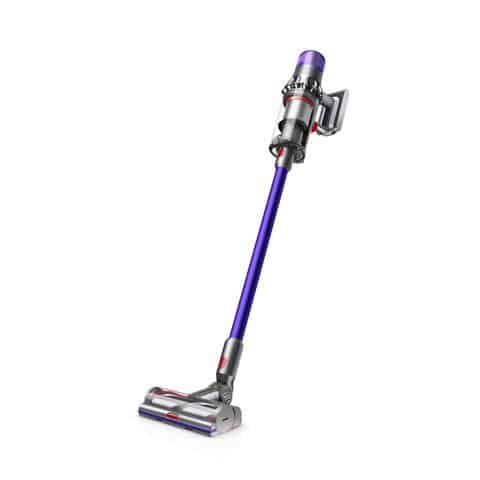 This futuristic vacuum cleaner not only looks great but is also easy to use. They are smaller versions of upright vacuum cleaners with an in-built motor and dust collector, so there is no bulk to carry around you. Thus, making them highly portable and convenient to use.
One can operate stick vacuum cleaners with one hand, plus most of them are battery powered hence no hassle with tangling of cords. At the same time, being cordless means they are less powerful compared to both canister and upright vacuum cleaners. However, most of them come with various cleaning attachments which easily reach every nook and cranny.
Average cost: 15,000 onwards
Average weight: 1.5 to 2 kgs
Pros:
Super lightweight and compact design
Cordless models make it easier to clean stairs
It comes with multiple attachments
Cons:
The dirt collecting bin is much smaller
Not a full-size vacuum cleaner
Multi-purpose Vacuum Cleaners
These are full-fledged vacuum cleaners that offer both dry and wet cleaning. They are suitable for both homes and offices.
These bulky machines are equipped with a powerful motor and need to be dragged as you clean. But the excellent cleaning results make up for the weight. They come with different attachments for different cleaning jobs.
They are great at cleaning bare floors, carpets, upholstery, underneath furniture, cleaning car interiors, car seats, and everything you might need to clean.
Average cost: 10,000 onwards
Average weight: 5 to 6 kgs
Pros:
Offers both wet and dry cleaning
Versatile machines that offer excellent cleaning performance
Ideal for homes and offices
Cons:
Expensive
Difficult to sore
Robot Vacuum Cleaners
Robot vacuum cleaners might sound gimmicky, but they do a lot to keep your house clean in reality. If you are one of those people who don't like cleaning jobs or simply don't have the time for it, you should get one of these.
These intelligent machines work automatically based on the instructions you leave on their app. Most vacuum learners use brushes, while some advanced models feature mopping and UV sterilization.
These robots use sensors to manoeuvre around the house. Once the pre-set cleaning program is over, they return to their main dock to recharge themselves for the next session. They might not be as efficient as a full-sized vacuum cleaner, but they do well enough in cleaning up your mess.
Average cost: 30,000 onwards
Average weight: 1 kg
Pros:
Ideal for cleaning hard-to-reach areas
Great for busy homemakers
It saves time and energy
Cons:
Not as efficient as canister and upright vacuum cleaners
Cannot clean stairs
Not ideal for cleaning rugs and carpets
Handheld vacuum cleaners
Handheld vacuum cleaners are the best options if you are looking for something small and portable. These mini vacuum cleaners are inexpensive and also reach every nook and corner.
These are the ideal choices for cleaning car interiors. The older models used to have wires, but the newer ones are battery-operated. Handheld vacuum cleaners can also be used as a supplement to bulky cleaners that don't have useful attachments or if you don't want to drag your whole vacuum system whenever you spot a mess.
Average cost: 1500 onwards
Average weight: 1 to 1.5 kg
Pros:
Handy and portable
Ideal for car cleaning, spot cleaning
Battery operated
Cons:
Not as efficient as full-sized vacuum cleaners
Not ideal for whole-house cleaning
What type of flooring do you have?
Vacuum Cleaner
Surface Type
Canister

Hard floor
Stairs
Small carpet areas
Furniture
Car interiors

Upright

Large carpet area
Rugs
Hard surfaces

Multi-purpose

Hard surfaces
Carpets
Stairs
Upholstery
Car interiors

Stick

Small floor area
Hard surfaces

Robotic

Hard floor
Carpets (exception)

Handheld

Furniture
Car interior
Upholstery
Now that you are aware of the different types of vacuum cleaners, it's time to choose one depending on the floor type. The floor type is probably the most crucial factor in choosing the right vacuum cleaner.
Most Indian homes have marble or floor tiles. For them, canister vacuum cleaners are the best vacuum cleaner option. They are easy to manoeuvre while working around and underneath furniture. A few of them come with different floor tools to work on different surfaces.
If you have both hard floors and carpets here and there, an upright vacuum cleaner will be an ideal choice for you. Look for features like variable suction, brush roll control, and adjustable height.
Bagged or Bagless Vacuum Cleaners? Which one will work best for me?
With bagless vacuum cleaners, one doesn't have to bear the cost of replacing bags, but they may not be the best choice for allergic people.
Based on how the dirt is collected, vacuum cleaners are divided into two categories:
1.Bagged vacuum cleaners
2. Bagless vacuum cleaners
Bagged Vacuum Cleaner
Bagged vacuum cleaners have a dirt collecting bag in their main body. And there can be two types of them which are-
Reusable bags
Disposable bags
As the name suggests, reusable bags can be emptied when full and used again in the same manner. Most reusable bags are washable. So, you can wash them whenever required to avoid dirt and dust build-up. However, reusable bags also have limited usability. Depending on the usage, one may have to replace the bag once a year.
Disposable bags need to be thrown out once full. These are use-and-through type bags that safely store dust and dirt inside them, thus minimizing exposure. These are great systems for people who are asthmatic or have allergic issues. The only downside is, you need to repurchase a bag every time it gets full, which comes with an ongoing cost.
Pros:
It minimizes exposure to dust. Just pull off the filled bag and replace it with a new bag or reuse it if it's a reusable bag.
Bagged vacuum cleaners have better filtration. As the air passes through the system, the filter traps all dust particles.
Cons:
Emptying and cleaning a reusable can be a messy and tedious process.
For disposable bags, it's an ongoing cost of repurchasing. And it might be hard to find new bags.
Bagged vacuum cleaners start to lose its suction power as it gets full.
Bagless Vacuum Cleaners
Bagless vacuum cleaners contain a much smaller size plastic container that collects dust and dirt. After it is filled, you need to unmount it and throw the dust away into a bin. Most bagless models have filters for allergens and dust particles like HEPA and some other filters. It traps the particles and pushes filtered air back into the room.
Pros:
No need to buy expensive replacement bags
You can see where the dust is collected and will know when to empty the bin. You can easily find any stuck ring, coins, etc.
Cons:
Bagless vacuum cleaners have a much smaller container which requires frequent emptying.
While emptying the bin, dust particles scatter everywhere. Not ideal for people with asthma and allergic issues.
The filters need replacement, and most of them come with an additional maintenance cost.
Corded Vs. Cordless vacuum cleaners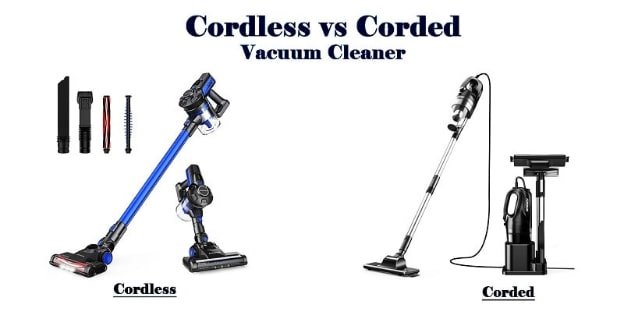 Cordless vacuum cleaners are becoming increasingly popular in India. The main two reasons are that they are lightweight and great at cleaning starts where you probably don't have a power outlet.
These bagless stick models are the most convenient to use and easy to store as well. Most of them are feature-rich and come with many accessories. They come with a much smaller capacity dust collector. Some larger bagged models are there, but they are pretty hard to find. But, the majority of cordless vacuum cleaners struggle to match the cleaning results with corded models.
On the contrary, corded models are very powerful at cleaning. They contain larger storage bags and can clean your whole house.
Pros of cordless vacuum cleaner
Very lightweight. Usually, 1.5 to 2 kgs, whereas average corded models weigh around 7 to 8 kgs.
Compact and easy to store
Easy to move around
Great for cleaning stairs, car interiors, small floor area
No tangling to cords
Cons of cordless vacuum cleaner
The use is limited by battery power
Smaller dust collector means frequent emptying
Can be expensive
Not ideal for whole-house cleaning
Corded or Cordless: Which will be better for my use?
Cordless or wireless vacuum cleaners are powered by batteries. So their cleaning time is limited to battery power. So, choose a corded vacuum cleaner if you want to deep clean your entire house or have a bigger apartment so that you don't need to wait for a full battery recharge.
If you must choose cordless models, look for the battery power, which varies from brand to brand.
Vacuum Cleaners with Filters
Vacuum cleaner works by sucking the dust inside and then exhausting the inside air. While exhausting the air, fine dust particles and allergens are also released back into the room. Manufacturers provide vacuum cleaners with special filters to help people who are allergic to dust, pollen, pet hair, etc.
These filters trap and block the minute particles minimizing asthma, allergic reactions, and releases fresh air back into the room.
There are various kinds of vacuum filters. Some are washable, and some need replacement. The most common in them is HEPA filters.
Types of filters in vacuum cleaner:
HEPA Filters:
HEPA or High-Efficiency Particulate Air is a cartridge filter that can remove 99.99% dust particles, about 0.3 microns in size. These are made of glass fibers and work as a very fine mesh to block minute dust particles and allergens. If you have asthma, dust allergy, allergic rhinitis, a vacuum cleaner with filters is a must for you. However, HEPA filters cannot remove foul odors from the air.
Foam Filters:
Foam filters are used to remove blocks of dust, pet hair, etc. These are sometimes used as secondary filters to prevent the blockage of HEPA filters. The best part with foam filters is that they are washable and can be used multiple times. Some manufacturers provide foam filters with Micro Fresh technology. Microfresh is a non-toxic chemical substance that can prevent the growth of mold, fungus, and bacteria.
Activated carbon filters:
Made with activated carbons, these filters are used to remove unpleasant odors mainly caused by pets. In most cases, activated carbon filters are used as secondary or optional filters. Many times carbon filters are combined with cartridge scented filters to enhance the freshness.
Cloth or bag filters:
These bag-like filters are generally used in large vacuum cleaners used in shops, construction sites, and older generation models. They are used as filters to block larger particles. Cloth filters are washable. Hence, there is no need for frequent repurchasing. Sometimes these are used as secondary filters to enhance the life of HEPA filters. Loth filters alone cannot protect you from dust allergies.
Which Vacuum Cleaner should I use for Asthma and Allergy?
If any of your family members have asthma or allergic reactions to dust, you must look for a vacuum cleaner that comes with an adequate filtration system.
HEPA filters are the best for asthma and allergy sufferers. HEPA can remove 99.97% of dust particles, including dust mites, pollen, dander, and bacteria. If you have asthma, A HEPA filter is a must-have feature in your vacuum cleaner.
If you have asthma and you do the cleaning, bagless vacuum cleaners are not for you. Since you will get exposed to dust and allergens while emptying the bin, this is also the case with reusable vacuum cleaner bags. You again need to clean it before reusing it, and the risk of getting exposed to dust is always there. However, in reusable bags, you can ask someone else to help while emptying the bag.
If you have a large carpet area, choose an upright vacuum cleaner for cleaning carpets and use a different vacuum cleaner with filters to clean furniture, curtains, sofa set, etc.
Vacuum Cleaner for Pet Hair
If you have pets at home, you must be familiar with the struggle with pet hair. Use a vacuum cleaner with good suction power that is powerful enough not to leave any fur behind. Choose HEPA filters if you are allergic to pet hair. And if you bother about the smell, use an activated carbon filter or a scented filter along with HEPA filters.
Do I need a wet and dry vacuum cleaner?
As the name suggests, wet and dry vacuum cleaners can work on both dry and wet surfaces. They can save a lot of time by mopping and cleaning accidental spills. You can also use them to clean bathroom floors. Whether it's about cleaning a broken glass or a spillage, wet vacuum cleaners serve both purposes.
Wet vacuum cleaners are definitely on the advanced side. They can be a great help if you want to pay some thousands more on the initial cost.
Technical features to look for
Power
This is the most crucial technical factor to consider. Make sure your vacuum cleaner has enough power to collect dust from every nook and corner. It is advised to buy a vacuum cleaner with no less than 185 W power to ensure efficient cleaning. It generates enough suction power to clean hard surfaces and the upholstery, which also needs to be cleaned once in a while.
Bin size:
The bin size largely depends on the vacuum cleaner type. Usually, bagless vacuum cleaners like stick and upright cleaners range from 0.5 liters to 1.5 liters. In contrast, bagged vacuum cleaners can have a massive storage capacity of up to 4 liters.
Cord length:
If you are buying a corded vacuum cleaner, check the wire length. It's often shorter in cheaper models. The cord length can vary from 6 meters to up to 15 meters, determining how often you need to switch between power plugs.
Battery
If you are thinking of buying a battery-powered vacuum cleaner, look at the battery life recharging time. Make sure the battery is made up of nickel, cobalt, and aluminum.
LED Display
It's always more convenient to have a LED display on your vacuum cleaner. It allows you to keep an eye on the selected modes, settings, and battery level.
Some Worthwhile Cleaning Tools:
Brush for pet hair: It's a powered brush roll tool which is very common. It can easily pick pet hair and lint from upholstery.
Extended hose: This allows you to reach higher places to collect cobwebs, clean ceiling fans, and long flights while cleaning stairs.
Mattress tools: This allows you to clean dust particles flexibly and dead skin cells that accumulate on the mattress and mattress covers over time.
Mop attachment: Makes hard floors squeaky clean.
Noise Levels
Some vacuum cleaners with powerful motors create a lot of noise. However, the noise of a vacuum cleaner is not always correlated with suction power as many quiet vacuum cleaners are available in the market, which makes very little noise while working. It might depend on the build quality of the vacuum cleaner. If you are sensitive to background noise, make sure to check the noise levels. If you don't find it in the product description, ask the seller.
Price
Vacuum cleaner price depends on the size. Currently, the most expensive type of vacuum cleaner is cordless stick cleaners. And the cheapest ones are the handheld vacuum cleaners. Before finalizing the product, compare your model with similar other brand models.
We have made a list of vacuum cleaners and their expected price, to give you an overall idea.
| | |
| --- | --- |
| Vacuum Cleaner Type | Staring Price |
| Canister | Rs. 4000 onwards |
| Upright | Rs.8000 onwards |
| Cordless stick | Rs.15,000 onwards |
| Handheld | Rs.2000 onwards |
| Convertible or multi-purpose | Rs.10,000 onwards |
Maintenance
Vacuum cleaners do come with little maintenance, and it largely depends on the type and usage. If you have allergy sufferers and are using a HEPA filter, it will need a replacement once every six months to a year. For reusable bagged vacuum cleaner, you need to wash it once in a while to keep it clean and protect against dust allergy.
FAQs
How to make your vacuum cleaner last long?
Certain objects can harm your vac's performance even decrease its lifetime. Sticky liquids like glue, glitter, nail paint, soil, and a sharp object like glass, stone chips, paperclips can jam the vacuum cleaner motor, filters, and storage bin. Ash, plaster dust, etc., contain particles so small that even the best filters might get clogged and useless.
To make your vacuum cleaner last long, make sure you only collect regular household dust, debris, lint, hair, fur, etc.
Do I need a HEPA filter in my vacuum cleaner?
HEPA filters can remove 99.97 % microparticles which measure around 0.3 microns. It includes dust mites, pollens, pet dander, mold, and bacteria; all these substances present in the air cause allergic reactions to some. HEPA filters are a must for allergy-prone people and even more important for people with asthma.
Are robot vacuum cleaners worth buying?
Unless you live in a one-storey building with tile or marble floor, a robot vacuum cleaner is hard to replace your primary vacuum system. They cannot reach tricky areas and are not efficient at cleaning carpets. Robot vacuum cleaners might not be the best at cleaning, but they perform well enough to keep your house clean. They may be worth the investment for people who hate cleaning or for small apartment owners.
Are vacuum cleaners really useful?
With the increase in indoor pollution, vacuum cleaners have become a necessity. Not only do they clean hard floors they can also be used for regular cleaning of sofas, curtains, upholstery, car interiors, furniture, and so on. When equipped with HEPA filters, these machines also become capable of removing the finest particles like dust mites, pollens, pet dander, mold, and bacteria which can cause severe problems to people suffering from asthma and dust allergies.
Bagged or bagless vacuums- which is better?
Bagless vacuum cleaners save you from repurchasing bags now and then. On the other hand, a bagged vacuum cleaner with reusable bags must be cleaned and washed once in a while. Both start to lose their suction power when the container is full.
But if you have asthma or allergic issues, bagless vacuum cleaners are not made for you. They contain smaller dust collecting bins which will expose you to dust more often than the bagged ones.
Bagless vacuum cleaners weigh a lot less than the latter. So, if lightweight is an important factor to you, you can choose a bagless vacuum cleaner.
How often do I need to change the vacuum bag?
Depending on the bin capacity, one might need to replace the bag 2 to 4 times every year. It will also depend on the place you live in and whether or not you have furry members. Ash, soil, pet hair fill the bin a lot faster than regular household dust.
Final Thoughts:
Although we would love to announce the best vacuum cleaner in India, we can't. The best vacuum cleaner for you solely depends on your requirements and usage.
If all you want is a lightweight, compact machine to help you clean around the house, a stick bagless vacuum cleaner would be the best choice. If you give importance to deep cleaning your carpets and upholstery, then an upright vacuum cleaner would be the best option to go for.
If you have tiles or marble floors and looking for an all-rounder vacuum cleaner, canister vacuum cleaners are ideal options. For those who require fresh dust-free air at home, you should seriously start looking for a vacuum cleaner with HEPA filters. The same goes for people with asthma and dust allergy.
If you look for a vacuum cleaner to only clean car interior and furniture, a small handheld vacuum can suffice the need. No matter what type of vacuum cleaner you buy, buy it from a reputable brand.