It's often a smart choice for 5-star models such as the Samsung 1.5-ton 2022 AR18BYNANWK when shopping for air conditioners. Though these models have a higher upfront cost, they are beneficial across their entire lifespan due to their power-saving abilities in India. This Samsung Windfree AC model is loaded with impressive features that include:
An inverter compressor in a split AC – its variable speed bolsters energy efficiency.
A capacity of 1.5 tons is ideally suited for 111 to 150 square feet of medium-sized rooms.
A versatile 5-in-1 Convertible mode.
A 5-star energy rating – promises significant savings on power.
An ISEER Value of 4.80 and yearly power consumption of 806.28 units.
Copper condenser coils – they require less maintenance and are durable.
A 100% copper condenser with DuraFin Ultra Coating – ensures low maintenance.
Windfree cooling – an innovative feature.
The use of R32 refrigerant – is an eco-friendly choice.
Additional features include auto-cleaning, an anti-bacterial filter, a 4-way swing, Freeze wash, and dehumidification.
Warranty offers include a comprehensive one-year warranty, five years on the PCB, and ten years on the compressor.
Positive Factors Influencing the Purchase Decision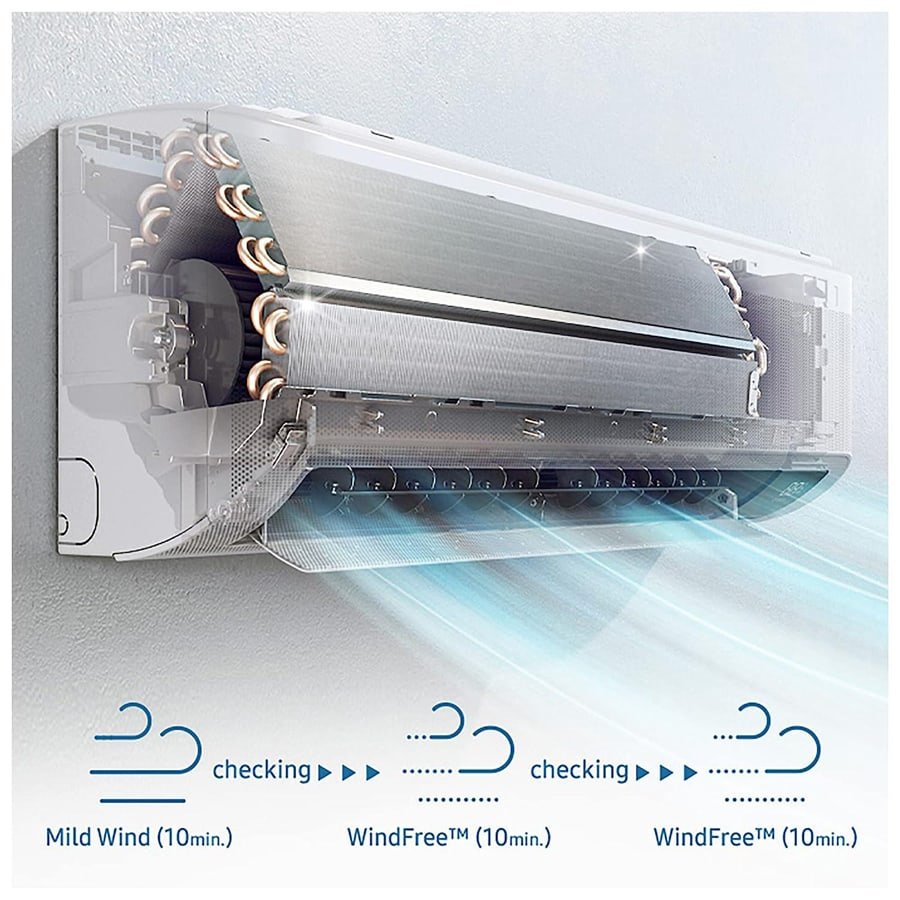 The AC model has two variants: the 2022 5-in-1 convertible mode and the 2022 Windfree + 5-in-1 convertible mode. The latter option offers attractive features. Unlike traditional ACs that disperse cold air through adjustable louvres, this Samsung AC utilises Windfree technology, which distributes cool air through 23,000 specially designed holes on its surface. This design allows for a wider area of cool air dispersion and eliminates the discomfort of a cold draft on the skin.
The technical aspects of this AC are equally impressive. It boasts an 18% wider air inlet, enabling it to intake more air. The fan size is also 15% larger than contemporary AC models, resulting in higher airflow. The air outlet features a 31% wider blade, allowing for more efficient cooling by dissipating more cool air into the room. Moreover, the Turbo Cooling feature reduces the time required for the compressor to reach maximum power, resulting in a 43% faster cooling process.
This AC minimises temperature fluctuations by using digital inverter technology, reducing energy usage by nearly 41%. While power usage information has not been provided, the appliance is hoped to live up to Samsung's advertised claims.
One of the notable advantages of this AC is its Windfree cooling technology, which surpasses the Fast Cooling mode available on another Samsung model. The Windfree AC eliminates the uncomfortable draft of cold air, providing a more comfortable sleep experience. According to Samsung, this technology can save up to 77% of energy, although confirmation will be obtained once the first electricity bill arrives.
Furthermore, this Samsung AC operates quietly, with noise levels not exceeding 21dB. When considering that library noise levels typically hover around 40dB, it becomes evident how silent this AC is. However, the noise levels can reach up to 45dB in higher capacity modes.
The inclusion of an anti-bacterial filter is another commendable feature, as it purifies the air by eliminating harmful bacteria, enhancing the overall air quality.
This AC also boasts a 100% copper condenser with DuraFin Ultra anti-corrosive coating, ensuring durability and the ability to withstand harsh climatic conditions. The DuraFin Ultra coating comprises a hydrophilic layer made of acrylic resin, an anti-corrosive layer of epoxy acrylic, and raw aluminium material.
To provide added protection and ensure long-lasting performance, the AC features the Triple Protector Plus feature, guarding against power surges and increasing overall durability.
According to Samsung, the Voltage Fluctuation Protector enables the AC compressor to operate within an input voltage range of 130 to 290 V, eliminating the need for an external voltage stabiliser.
Other notable features include using R32 refrigerant, 4-way swing functionality, dehumidification capabilities, and cooling the room even in external temperatures as high as 52 degrees Celsius.
The Freeze Wash functionality is remarkably impressive as it cleans the heat exchanger autonomously. It operates through a three-step process to ensure thorough self-cleaning.
The heat exchanger is rapidly frozen at -15 degrees Celsius, transforming the moisture into frost.
During defrost, the appliance operates in fan mode to remove dirt and eliminate approximately 90% of microorganisms.
The WindFree Dry mode is activated to ensure any remaining moisture is thoroughly dried up.
The Auto Clean feature follows a well-structured, three-step process to sanitise the interior of the air conditioning unit.
The process initiates with a 10-minute auto-cleaning phase during which the blades are kept open.
Subsequently, the second stage involves an assessment of the internal humidity and temperature. A cleaning action with the blades follows this switched off, lasting for an additional ten minutes.
Lastly, the third phase involves re-assessing the internal humidity and temperature levels. Based on these parameters, a decision is taken whether or not to proceed with an extended cleaning for an extra ten minutes.
The Samsung AC's variable-speed compressor operates at five distinct capacity levels, facilitating superior comfort and energy efficiency.
Home Alone Mode operates at 40% power input, an ideal choice for a single occupant.
Eco Mode functions at 60% capacity, designed to meet the needs of two occupants while conserving energy.
Pleasant Mode, activated when a third person enters the room, propels the air conditioner to work at 80% capacity, maintaining a comforting environment.
Normal Mode, the standard functioning mode, operates at full 100% capacity.
Party Mode takes capacity to 120%, equating to the cooling power of a 1.8-ton appliance, to accommodate larger gatherings. This mode, while delivering enhanced cooling, results in higher power consumption.
These diverse operational modes enable a flexible and efficient climate control solution for varied usage scenarios.
Negative Aspects Requiring Remedial Action from Samsung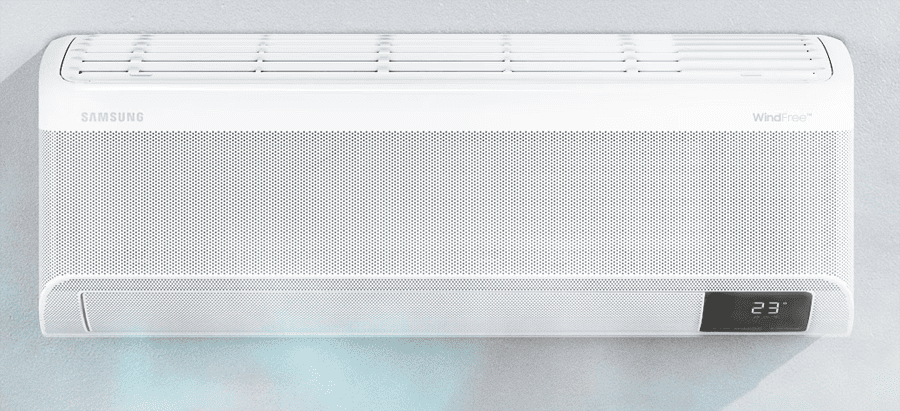 Like any other, Samsung appliances have advantages and disadvantages, and the company needs to be aware of the latter to improve product quality. Specifically, this air conditioning unit is a seasonal model designed primarily for use in the summer, lacking dual hot and cold functionality.
Despite many advanced features, this model misses out on essential ones like smart self-diagnosis to troubleshoot operational and installation issues. Furthermore, it lacks Wi-Fi compatibility and a no-motion detection sensor, a feature that could enhance energy efficiency.
Despite Samsung's claims of a quiet operation, the unit generates noticeable noise during its Normal and Party Modes, though it operates quietly in other settings. The outdoor unit is also not entirely noise-free.
While the cost of the unit itself is competitive, Samsung levies standard installation charges amounting to Rs 1500 plus tax. In addition, consumers bear extra costs for drilling, additional copper wires, a stand, and other accessories. Given this pricing, a complimentary installation service would be appreciated.
The unit has a multi-functional remote control but lacks a backlight, making it difficult to use in dim lighting. The warranty coverage also does not extend to installations conducted by unauthorised third parties.
This model uses the older digital inverter technology, despite Samsung having introduced the more efficient 8-pole triple inverter in its newer models.
Also Read
Conclusion
The Samsung 1.5-ton 2022 Model AR18BYNANWK AC offers a host of impressive features. Its efficient cooling capacity ensures optimal comfort, while the intelligent inverter technology maximises energy savings. With its sleek design and advanced features, this AC unit sets a new home cooling and comfort standard.
Frequently Asked Questions
Does Samsung Windfree AC come with sensors like its competitors?
No, this particular Samsung air conditioner does not have any built-in sensors.
Should I follow the Samsung executive's suggestion and opt for the AMC?
The decision to go for an AMC (Annual Maintenance Contract) is up to you. However, it may not be necessary as Samsung provides a 5-year warranty on the PCB and a 10-year warranty on the compressor. Additionally, the product comes with a one-year warranty.
Do I need to use an external voltage stabiliser with the Samsung Windfree AC?
This Samsung air conditioner is designed to operate within a wide voltage range of 130 to 290V. Therefore, it does not require an external voltage stabiliser. However, using one as an extra protective measure should not cause any issues.
Can this Samsung AC be used as a heater in the winter?
No, this AC model does not have a heat pump function. It is designed specifically for cooling purposes and does not provide heating capabilities.
How much power does this AC consume?
The BEE star label indicates that this AC consumes 806.28 power units annually under specific test conditions. However, actual power consumption may be higher under normal Indian home usage conditions.
What is the recommended room area for this Samsung AC?
This Samsung 1.5-ton AC is suitable for cooling medium-sized rooms with an area of up to 150 square feet.