Since the advent of modern AC systems in 1902 by Carrier, air conditioning technology has significantly improved. With advanced technology, manufacturers have been able to introduce innovative cooling systems such as the convertible AC. Brands such as LG, Samsung, Voltas, and Whirlpool have now developed versions of flexible-cooling air conditioners, which are quickly gaining popularity.
The convertible AC is a revolutionary product that provides versatile cooling options for various needs and situations.
So, what is a convertible AC and how does it work?
It works similarly to a convertible refrigerator, where you can interchangeably use the freezer and fridge compartments to optimize storage space and cater to specific requirements while saving power. This unique feature allows the convertible AC to transform into different modes, making it suitable for cooling a single room or an entire house. In this post, we'll explore how it functions and why it's a game-changer in air conditioning.
Some Examples To Explain It Better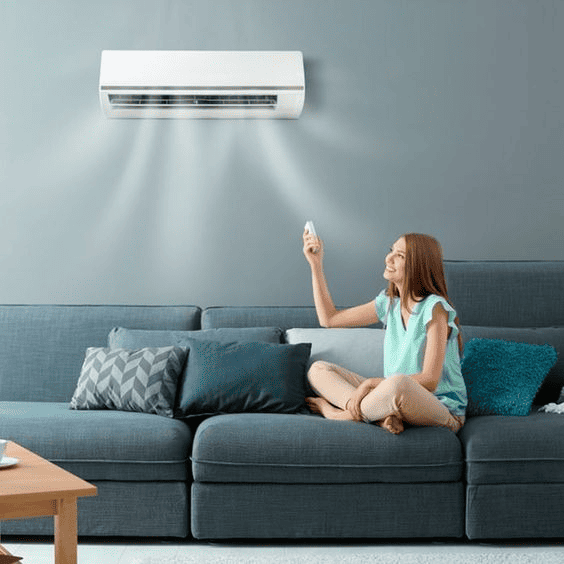 Suppose you have a 1-ton AC installed in a small bedroom, which works well for most days to provide adequate cooling. However, the AC may struggle to meet the demand during hot summers, leaving you feeling hot and uncomfortable. In such cases, a convertible AC can come in handy, allowing you to convert the AC into a higher capacity mode for more powerful cooling better suited to handle the extreme heat outside.
Similarly, if you have a 1.5-ton AC in your drawing room, it may work perfectly fine under normal circumstances. However, the AC may seem perfect when everyone sits together to watch a movie. Still, if you sit alone in the room, the cooling may be too high compared to your requirements, resulting in discomfort and unnecessary power consumption.
That's where convertible AC technology comes in, allowing you to alter the settings to suit your needs and maintain the ambient temperature, regardless of the number of people in the room. With this technology, the AC can work at a variable capacity, depending on its workload, giving you the flexibility to adapt the cooling capacity of your AC to your needs, ensuring that you never have to compromise on your comfort or pay more for unnecessary power consumption.
The Smartwatch Analogy
The convertible AC unit is like a smartwatch that adapts to different user needs. Just as a smartwatch can track activity, monitor heart rate, and display messages, a convertible AC can transform into different modes to cater to cooling needs. For instance, it can switch to spot cooling mode for a concentrated cool breeze in a home office or turbo mode to quickly cool an entire living room while entertaining guests.
Similar to adjusting features on a smartwatch based on activity, a convertible AC adapts to different situations for efficient cooling and energy savings. By switching between modes, it ensures maximum comfort while reducing the carbon footprint. The concept is similar to the accelerator of a car, where changing driving modes according to circumstances affects fuel efficiency.
What is the Convertible/Adjustable AC Technology?
Convertible or hybrid air conditioners are designed to provide flexible cooling options using advanced technology. As stated, these air conditioners can operate in various modes, such as cooling, heating, dehumidifying, and fan-only, making them versatile for residential and commercial spaces.
One of the key features of convertible air conditioners is their ability to operate at different cooling capacities. This is achieved through an inverter compressor that adjusts the cooling output based on the temperature requirements of the room. The inverter compressor adjusts the motor's speed according to the room's temperature fluctuations, ensuring that the desired temperature is maintained using less energy than traditional air conditioners.
Convertible air conditioners also come equipped with remote control units that allow users to adjust the various modes and settings of the unit. These remote control units offer features like a programmable timer, sleep mode, and auto-restart, making it easy for users to customise their cooling requirements based on their needs.
Moreover, some convertible air conditioners also use smart sensors that detect the temperature and humidity levels in the room and adjust the cooling output accordingly. This feature ensures comfortable temperature levels and helps in reducing energy consumption.
The Carrier Flexicool 6-in-1 inverter AC model takes this technology further by offering six options, ranging from extremely hot to comfortable, pleasant, all-in-one appliances. Users can choose the mode based on their cooling requirements, with the moderate warm mode or comfortable mode consuming less power.
Overall, the Inverter technology enables the motor to run at variable speeds depending on your requirement. In contrast, the convertible AC technology allows users to adjust the required modes on their AC remote control unit, offering efficient and customised cooling options.
Next, let's understand the difference between Inverter technology with Convertible AC technology.
Comparing Inverter Technology with Convertible AC Technology
When comparing inverter technology and convertible AC technology in air conditioners, there are several factors to consider. Convertible AC technology offers greater flexibility, with multiple operating modes like cooling, heating, dehumidifying, and fan-only. In contrast, inverter air conditioners typically only operate in cooling and heating modes, limiting their flexibility. Both technologies are designed to be energy-efficient, but convertible air conditioners may consume more energy in heating mode than inverter air conditioners. The cost of convertible air conditioners is generally higher due to their advanced technology and multiple modes, while inverter air conditioners are more affordable. Both require regular maintenance, but inverter air conditioners may require more frequent maintenance due to their complexity. Convertible air conditioners may also require additional care for their multiple operating modes.
Standard inverter technology and convertible AC technology differ in the way they work. Regular inverter ACs automatically adjust their power consumption to maintain the set temperature, but they always perform at their full cooling capacity. In contrast, convertible AC technology allows users to manually adjust the device's tonnage capacity according to their requirements. As a result, convertible ACs can work at variable tonnage capacities, saving more power than standard inverter technology. However, it's important to note that convertible ACs require inverter compressors, not conventional ones.
Convertible ACs From Different Brands:
| | | | | | |
| --- | --- | --- | --- | --- | --- |
| Product | Convertible Type | Tonnage | Price | Warranty | Features |
| The LG AI Convertible 5 Star, Split AC with Plasmaster Ionizer | 6-in-1 | 1.5T | ₹49490 | 5 Years Warranty, 10 Years Warranty on Compressor | – DUAL Inverter Compressor- AI Convertible 6-in-1 Cooling- Artificial Intelligency cooling mode- Plasmaster Ionizer- 4 Way Swing- HD Filter with Anti Virus Protection |
| The Samsung Convertible, 5 Star Split AC AR18CYNZABE | 5-in-1 | 1.5T | ₹48256 | 1 Year Standard Warranty on this Product, 10 Year warranty on the compressor. | – Convertible 5in1 Modes -HD Filter – 2 Way Swing – Earth Brown Strip Design- 100% Copper Condenser with Durafin Ultra cooling |
| Whirlpool 1.5 Ton 5 Star Inverter Split AC | 4-in-1 | 1.5T | ₹ 36,990 | 1 year on product, 1 year on condenser, 10 years on compressor | -Intellisense Inverter Technology- 4-in-1 Convert- 6th sense technology- Dust Filter & Dehumidifier- Stabilizer free operation |
| Voltas 5 star Convertible Inverter split AC, 245V Vectra Plus | 6-in-1 | 2T | ₹59,990 | 1 Year | – High Ambient Cooling- Intelligent Sleep Mode- Stabiliser Free Operations- 100% Copper- Dual Protection Filter |
The LG AI Convertible 6-in-1, 5 Star (1.5T) Split AC with Plasmaster Ionizer
The LG convertible ACs come in different versions, including 6-in-1 and 5-in-1 models. One of the models, the 5-in-1 (MS-Q18DNZA), offers six different operating modes, including the default mode, 100%, 80%, 60%, and 40% mode. Additionally, both models have an additional mode that allows the AC to operate at 110% capacity, which consumes more power. By repeatedly clicking on the remote control, you can reduce the AC's cooling capacity per your requirements.
The Samsung Convertible 5-in-1, 5 Star (1.5T) Split AC AR18CYNZABE
Samsung's 5-in-1 convertible cooling technology is an innovative feature in its air conditioning units. With this technology, the AC's working capacity can range from 40% to 120%, allowing it to function as both a 1.5-ton AC and a 0.8-ton appliance. By adjusting the compressor operation in 5 steps, users can save energy while still achieving the desired level of cooling. This feature ensures optimum cooling, depending on the temperature outside and the user's requirements, resulting in significant energy savings.
The Whirlpool 4-in-1, 5 Star ( 1.5T) Split AC FLEXICHILL 5S COPR INV, Copper Condenser
Whirlpool offers a product called FLEXICHILL 3S COPR INV, which allows users to choose from four different cooling capacities. This 4-in-1 feature provides users with greater flexibility and versatility in operation, making it suitable for a wide range of applications.
The Voltas Vectra Plus Convertible 6-in-1 5 Star (2T) Split AC
This 6-in-1 convertible AC is a versatile and innovative air conditioning unit that offers multiple cooling options in a single appliance. It allows you to switch between different cooling modes, including the 1.5-ton and 1-ton capacities, depending on your cooling requirements. With its advanced technology, the 6-in-1 convertible AC delivers efficient and effective cooling performance, ensuring you stay comfortable in any environment. Its features, such as High Ambient Cooling, Intelligent Sleep Mode, and Dual Protection Filter, make it a popular choice among homeowners and businesses alike.
Also Read
The Bottom Line
The emergence of convertible ACs has ushered in a new era of customisable cooling, allowing users to adjust their cooling preferences according to their surroundings. With advanced features like high ambient cooling, intelligent sleep mode, and stabiliser-free operations, these ACs provide effective and efficient cooling for any space. Leading brands such as LG, Samsung, and Voltas are driving this revolution, offering high-performing AC units with unique features that set them apart. With technology constantly evolving, we can expect more innovative products to enhance our comfort and convenience levels. As established above, Convertible AC technology is the latest trend. If you have any questions about these adaptable cooling solutions, please leave them in the comments; we will gladly assist you.
FAQs
What is a convertible AC, and how does it differ from regular air conditioners?
A convertible AC unit can switch between cooling and heating cycles. It can adjust its cooling capacity and compressor speed based on temperature changes within the room, whereas standard air conditioners can only cool.
Which brands offer convertible ACs, and what are their main features?
LG, Samsung and Voltas are among the most well-known brands offering these models' unique characteristics. LG typically specialises in advanced smart operation, while Samsung offers superior energy-saving technology, and Voltas stands out for its impressive cooling performance. To know more, please refer to the post mentioned above.
Is it worth investing in a convertible AC unit?
When comparing standard air conditioning units to convertible options, an upgrade may be worth considering if you live in an area with frequent temperature fluctuations throughout the year or want to improve indoor air quality for maximum convenience and comfort. However, a regular air conditioner may be more cost-effective if you only expect to use your unit's cooling functionality.
What factors should I consider when purchasing a convertible AC unit?
To choose the best convertible AC unit for your needs, consider factors such as your room size and layout, available budget, energy efficiency rating of the unit, as well as smart connectivity options and air purification technology. Furthermore, opt for a reliable brand that offers good customer support and after-sales service. In this way, you'll enjoy optimal comfort and convenience with your new AC unit.